By Morgan Lehofer
Looking for something fun to do on a Friday night? Look no further! ImprovBoston's Studio 40 is a fabulous place to go when your weekend plans are lacking in fervor.
Studio 40 is a weekly improvisational comedy show hosted at ImprovBoston in Cambridge, MA. Just a few T stops away, ImprovBoston is a center for comedy performance in the area. They host everything from comedy festivals to performances to classes in standup, improv and sketch writing. Studio 40 is one of the most popular shows at Improv Boston.
ImprovBoston was founded by a former Second City student named Ellen Holbrook 1982. The organization started out as a small group of improv performers who performed at various venues around Boston. The group began to grow in size and renown, and in 1993 ImprovBoston leased the Back Alley Theatre in Cambridge. Today, after being active in the comedy world for over thirty years, ImprovBoston is located at 40 Prospect Street in Central Square, Cambridge.
The building that houses ImprovBoston has an interesting layout. It was once home to an Asian grocery store, and was remodeled in 2007. The lobby contains a bar where snacks and refreshments can be purchased, and the performance rooms are through a set of double doors in the back of the building.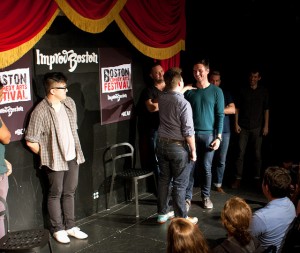 "The theatre itself is really small," said Laura Stanton (CAS '18) after watching a Studio 40 performance. "But it's intimate. You're sitting like three feet away from the performers, so it's almost like you're on stage with them."
As seasoned theatergoers already know, half the fun of improv is the audience participation. Actors come to audience members for suggestions and volunteers. The petite theater adds a warm dynamic that is hard to achieve in larger venues.
Studio 40 is a lively and student-friendly show. The performances generally only last about 75 minutes, making them a convenient way to add a little flair to your Friday night.
"I love improv shows," said Samantha Santoro (CAS '18), who saw her first at ImprovBoston last Friday. "Studio 40 was hilarious. It blows my mind that the actors can come up with things so quickly."
The shows at Studio 40 feature several different local improv groups, including Short Shorts, Disco Basement, Green Means Go, Midy Zevlin, Buscow and First impact.
Performances are scheduled now through the end of November. A complete schedule of performances can be found online here. Tickets can also be purchased online or at the door for $12 or $10 with a valid student ID.
Studio 40 is a perfect way to get off of campus and support the Boston comedy scene. Head over to ImprovBoston this weekend for a night of good times, big laughs and great memories.