By Ella Torres
After an electrical fire put Thornton's and five other restaurants out of business for a while, Peterborough Street began to change. With a surge of new apartment complexes came a new crowd. "Within the past year or so, the college kids or young professionals have been coming in," said bartender Mimi O'Connor. Thornton's had a new clientele to please when it reopened three years later. And it didn't come easy. "It took a while to get the feel of the neighborhood [restaurant] again," said owner Martin "Marty" Thornton. But Thornton made an active decision to revive the restaurant with the same style it had prior to the fire. "We had done it for 20 years and it worked then," said Thornton.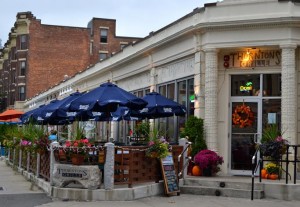 Before the fire, Thornton's crowd was a mix of old-time regulars and Sox fans. Yet after the fire in 2009 and the reopening in 2011, the Thornton's crowd expanded. And after a year, "it started clicking," said Thornton. Now, Thornton's varies between the regulars who have their specific seats and the newcomers looking to grab a bite.
I sat down at Thornton's Grille for the first time not long ago. I was more intrigued by the entire strip of restaurants than this specific one, but I had to start somewhere. But once I opened my menu, I started to appreciate where I was. While the options looked good, it was the names that caught my eye. There aren't many places where you can ask for "The Shining" and be served a chicken sandwich. At Thornton's though, "One Flew Over The Cuckoo's Nest" isn't just an award-winning film; it's the part of the menu where you can find chicken sandwiches, each one named after a different Jack Nicholson movie title. When I asked Thornton what the motivation was behind the names, he replied simply, "just havin' fun." Moments later I had a brunch menu in my hand and Thornton in my ear boasting about their "Crack 'Em Up" section: scrambled egg platters named after comedies – think Animal House, Caddy Shack, and The Three Stooges.
Their light-hearted menu items aren't the only thing that sets them apart from the rest of Peterborough Street. Thornton's is one of two restaurants with a liquor license on the strip, and while they're happy to serve up a Bloody Mary, they're looking to be more than just your spot for a Sunday buzz. "It would be so much fun to get this to be like a college bar where all the kids come," said O'Connor as she prepared a drink behind the bar. This hope may not have even been in Thornton's sights four years ago.
I ended my meal at Thornton's as a pleasantly surprised newcomer. And while I'm not one for horror, I'd certainly go back for a taste of "The Shining."
Thornton's Grille is located at 100 Peterborough St., and is open 11:00 AM to midnight Monday through Friday and 9 AM to midnight Saturday and Sunday.