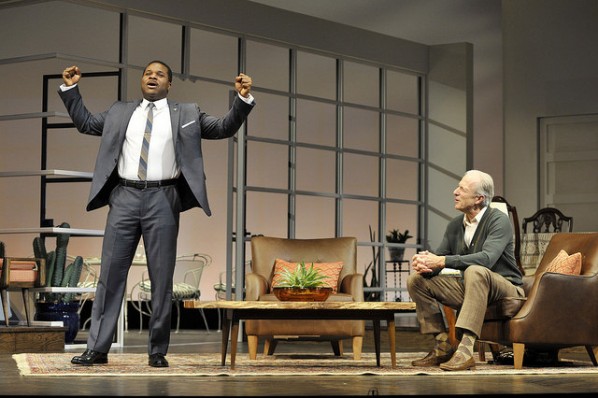 The Huntington Theatre Company opens its 33rd season with a stage adaptation of Stanley Kramer's award-winning 1967 social problem film Guess Who's Coming to Dinner. The Huntington's production fails to break the story out of its late-'60s time capsule and explore the modern state of race relations in America but it is a nice replication of the source material tailored for the stage.
Set in 1967, the play and original film tell the story of white San Franciscan Joanna Drayton who surprises her liberal and supposedly accepting parents with her new fiancé–the accomplished and African-American Dr. John Prentice, Jr. The story follows the interracial couple's procurement of the Draytons approval of their intended marriage, exploring with great depth the complicated subject matter of race relations.
The iconic Guess Who's Coming to Dinner is ripe for adaptation. The film's single-setting, compression of time, comedic timing, and dialogue-heavy script make it fitting for the stage. And in a time when the country has twice elected a biracial president, yet episodes of racial violence (for example, Trayvon Martin and Ferguson, MO) have made headlines over recent years, its central theme is clearly still relevant and tempts a revisit.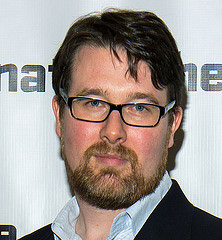 Nearly 50 years after the groundbreaking film first graced the screen, playwright Todd Kreidler has brought to the Huntington a stage version of the classic work. "I wanted to take the opportunity to talk about and engage in the attitudes of 1967 but in a way that was for the 21st century. These attitudes and ideas are still very much alive," said Kreidler in an interview for the play's first run at Washington D.C.'s Arena Stage.
Director David Esbjornson adds, "What Todd Kreidler and I are trying to do is walk a line–to tell a story that people already know but texture it with dialogue, situations, and psychological motivation that feel more dimensional. With this adaptation, we're trying to explore other aspects of these people's lives…to shore up and deepen some of the conflict that already exists."
While the creative heads behind the adaptation aspired to do more than remake the movie for the stage, Guess Who's doesn't stray much from the iconicism of the original. The play follows William Rose's original screenplay very closely, featuring all the memorable moments from the film, but neglects to attempt to improve upon its mistakes–notably a draining second-half and a useless, stereotypical Irish priest character. The few differences that have been made are too insignificant to deepen or reinvigorate the aged story. The result is a production that resembles a live reenactment of the period piece–a pleasantry to anyone with a fondness for the movie but a weak adaptation.
Malcolm-Jamal Warner is a little lackluster as the lead, Dr. John Prentice. Even considering the large expectations in store for him as a well-known, seasoned actor inheriting the role after Sidney Poitier's famous onscreen portrayal, Warner is off. While looking the part quite well, his delivery style gives an air of a phony. His merely satisfactory performance is not helped by his co-star, Meredith Forlenza. Forlenza appears as an obviously novice actor, especially for the stage. Her performance is very rehearsed and she has mistaken elevating her voice for projecting it. Together, Forlenza and Warner lack any sort of chemistry as a couple, which really prevents the audience from emotionally investing in their characters. Those that do must be projecting their remembered affection for Houghton's and Poitier's portrayals onto them.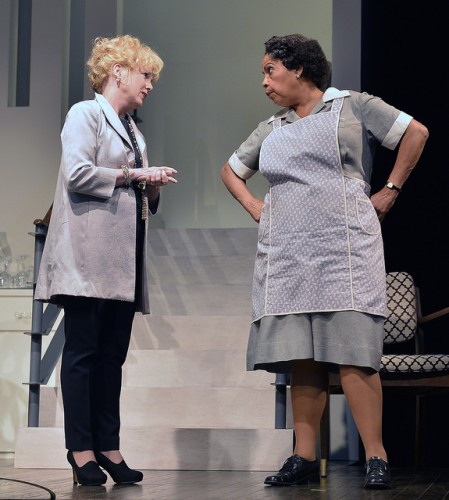 The real stars of Guess Who's are Lynda Grávatt as housekeeper Matilda "Tillie" Binks and Will Lyman as Matt Drayton. Grávatt's character is endowed with being the straightest of the cast, the most relatable to the modern audience. But instead of squandering this luck Grávatt seizes the opportunity for connecting with the crowd by delivering a naturalistic performance that tickles the audience. Similarly, Drayton displays a deep commitment to character as the conflicted family patriarch. In an instance where Patrick Shea forgot part of his line, Lyman, unflinchingly as a ruffled Drayton, assists him.  And when Lyman hits his high-note erupting at the thought of his daughter encountering physical harm for being married to a black man, you will forget all about Spencer Tracy and his time as Drayton.
While the production's chic, minimalist-styled scenic design and occasional modern costumes present a look that is not so much "timeless" as it is incongruent, it is Esbjornson's fluid direction of the fast-paced script which keeps the play interesting. This is best represented with an impressive real-time set-change conducted via a rotating platform. The transition (which is a little reminiscent of the film's cinematography) breathes new life into the single set-up. It is this activeness–keeping things so animated that it allows the audience to forgive the weaker elements–that saves the Huntington's production of Guess Who's Coming to Dinner from being a dull and dated re-creation of the beloved 1967 film.
Guess Who's Coming to Dinner runs through October 5th at the Boston University Theatre on Huntington Avenue. Tickets start at $25; BU faculty, staff, and alumni receive $10 off, and student tickets are just $15. See huntingtontheatre.org for details.