They came with Pikachus. They came with Batarangs. They came with tails, oversized mallets, spandex, trench coats, and lots of double-stick tape. And they came by the thousands.
This past weekend, the Seaport World Trade Center held its annual Boston Comic Con, and fans of superheroes, aliens, the supernatural, and everything in between gathered to celebrate art, fandom, and fiction. The Quad was fortunate enough to talk with some of the talented architects of these much beloved fictional universes.
Part 2 of our coverage includes interviews with Rebekah Isaacs, Kate Leth, and Babs Tarr. Part 1 can be found here.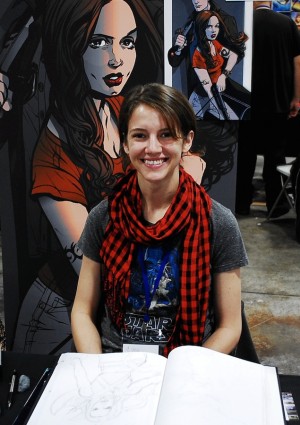 Rebekah Isaacs is the current artist on Dark Horse's Buffy the Vampire Slayer: Season 10. Additional artist credits include Dark Horse's Angel & Faith, Marvel Comics' Ms. Marvel, and Captain America & the Falcon.
The Quad: What is your favorite thing about working in the 'Buffyverse?'
Rebekah Isaacs: Wow. I guess one of the best things and maybe one of the worst things about working in "Buffy" is the extreme passion of the fans. That can make for an amazing day sometimes [laughs] or a really horrifying day sometimes. Even when the fans are really into what we're doing, it's just really incredible that after fifteen years off the air that they're so into these characters still. And they are welcoming all of this as new canon. It makes it feel like what we're doing is really important, not just making a bunch of disposable pages that nobody's going to care about in the next month. That this is going down in "Buffy" history. It's pretty amazing.
What are your other favorite sci-fi/fantasy universes that you'd like to take a hand in?
RI: Oh man, I'm a huge Star Wars fan. That's the first fandom I ever got into. So that would be awesome. But I wouldn't really want to do anything except for the original trilogy [laughs], so the opportunity for that is pretty limited.
I recently started to get into [Star] Trek, which was always something that I was really against, I felt that if you liked one that you couldn't like the other. But I'm working my way through The Next Generation now, and I love it. I can see that there are good things and bad things about both. And you can definitely like one, and appreciate the other still. And I love that they're still working with a lot of the original characters in the Star Trek comics, so that would be really awesome.
In the Buffyverse, there's a lot of death. What's been the most emotionally trying thing that you've had to draw?
*Major Spoiler Alert for upcoming issues of Buffy the Vampire Slayer: Season 10*
RI: It was emotional, but not in a negative way. But the resurrection of, spoiler alert, Giles. He's my favorite character, and I wanted to be able to do that justice. Even just reading the scripts beforehand, I cried when I read that script. And I was so excited.
And I didn't even know until the last minute that we were actually going to bring him back. I thought that maybe they were going to fail, you didn't really know. So that was really incredible, it felt like I was watching the show.
What is your favorite comic book sound effect that you've ever drawn or read?
RI: I've actually never drawn in my own sound effects. I really love all of Ryan Brown's sound effects. He does a series called God Hates Astronauts. He does very literal sound effects, so if somebody gets punched in the crotch, then the sound effect might be "Crotchpunch!" And I don't think that's an actual sound effect he's used, but that gives you a basic idea.
He comes up with the most hilarious ones, and every panel has one it seems. I always get a good laugh out of those.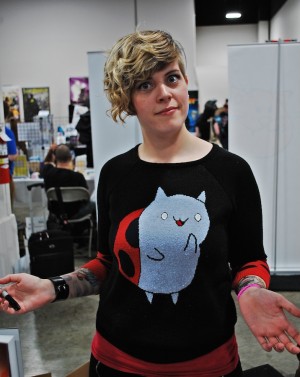 Kate Leth
Kate Leth is the current writer for BOOM! Studios' Bravest Warriors and writer/artist of weekly Kate or Die! strips at ComicsAlliance. She's also the writer for the upcoming BOOM! Studios Fraggle Rock miniseries and IDW Publishing's Edward Scissorhands miniseries. She also runs the Valkyries, an organization for women in comics retail.
The Quad: You've been a very big advocate for more queer representation in all forms of media, especially all-ages material. What franchises would you like to see more queer representation in?
Kate Leth: In a lot of stuff that I think kids are watching and consuming more. Cartoons, especially. Stuff on Cartoon Network and things that kids are really really into because you want to get it in front of them.
So there is a lot of series that I like, that I feel like would not be lessened in any way by including queer characters, which is basically all of my favorite shows. Everything in the Regular Show–Adventure Time–Bravest Warriors universe, and any of that stuff.
Not even in the world of cartoons and comics, but also in pop culture media like films. Like, do a Babysitter's Club with a gay character or queer character. It's something that I think should be pushed for, and I think we're at point now where it should be normal.
You've had a lot of success in the past few years. If you could travel back in time five years and tell yourself about the different projects that you're working on, what would be the first one you'd tell five-years-younger Kate Leth?
KL: Honestly, probably about the Valkyries, which is a group that I run online for women who work in comic book shops. I kinda started that on a whim a few years ago, because I was one of the only ones that I knew in my town.
We're now at close to 300 members, and Gail Simone and Kelly Sue DeConnick are involved with us. We're now being contacted by Marvel and DC and Image and Oni and all of these other publishers who want to work with us and respond to us.
As far as I can tell, we're one of the biggest retailer organizations at this point, so I think that's the thing that impresses me the most.
You're known both for your adult work and your all-ages work. What is like balancing that?
KL: It never used to matter when nobody really cared [laughs].
Now, it's a little strange because I'm working on bigger and more public and more notable projects, and so I do sort of worry about it sometimes. I worry about a kid reading my Adventure Time book and looking me up [laughs]. I kinda worry, but I'm not the only one doing that. There are so many—like, the crossover between people working on Smut Peddler and Adventure Time is actually pretty big.
So far, it's gone okay. I've never really had anybody cuss me out for it, so until somebody does, I think I'm alright.
What is your favorite comic book sound effect that you've ever drawn or read?
KL: Probably in Bravest Warriors, when somebody gets "schwooolp" away, and then there's a piece in the alt-text that I wrote that's like "Nothing good ever came from schwooolping, except babies I guess." My favorite thing is I wrote it, which is terrible. I just like it a lot.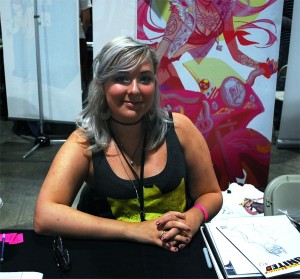 Babs Tarr
Babs Tarr is the upcoming artist for DC Comics' new Batgirl creative team. Other artist credits include BOOM! Studios' Steed and Mrs. Peel and work for Cartoon Network, Disney, and various new outlets.
What excites you most about your upcoming run on Batgirl?
Babs Tarr: I'm most excited about being able to put my own personal spin on it. At the end of the day, I'm trying to put Babs Tarr out there and make my mark on the world, so I'm excited that DC has hired me to do Batgirl in my style.
What's really cool is that the writers, Cameron Stewart and Brenden Fletcher, they are very much influenced to write the story based off of my style. Which so cool. I did not know that comic writers would be like "Alright, this is what the artist is going to excel at and be excited about drawing" and make that be a thing. I did not know that. So when they started giving me story stuff, and it was very much in vein of stuff I draw already, I was like "What are you guys doing?! This is amazing!"
I'm flattered and I'm humbled and I'm excited. Every page, every time I get a script or layout from Cameron, I just get more excited. It's going to be really cool.
You mentioned in another interview that you have Pinterest boards for the different characters.
BT: Yeah, they're secret right now, but when we release pages, I'll probably have a collection that I'll put on BatgirlOfBurnside.tumblr.com. I'll put like an OOTD (Outfit of the Day) and probably put a picture of the page and I'll have links to what the girls were wearing.
What inspires Barbara Gordon's style?
BT: Barbara's style is going to be very practical. She's very busy with school and she's also Batgirl, so she's not going to be the most glamorous of all the girls in the book, but she'll still have cute stuff. It'll be more like "comfy, practical, and cute." Simple.
There's another character, she's going to be more like glamour and punk. And another character, she's going to be more flashy and loud. Fitting for her personality. That's what we're going with so far for the girls in the book. When you find out who they are and what they're personalities are, that'll fit much better.
Q: What is your favorite comic book sound effect that you've ever drawn or read?
BT: I think "BAMF" from Nightcrawler is probably it. I know maybe a lot of people probably say that one, but I just think it's really cool.