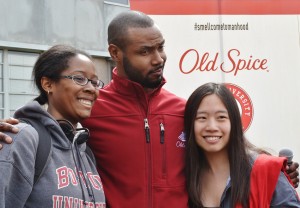 Thursday afternoon, Matt & Kim blared from WTBU speakers as students spilled onto the COM Lawn fresh from their last classes of the year. The charming Isaiah Mustafa, also known as the Old Spice guy, doled out advice and samples of body spray as students gathered around him trying to catch shirts being launched out of a t-shirt cannon. Even Rhett made an appearance on the lawn, wandering around taking pictures with students as the air filled with the scent of Insomnia cookies and spring.
For 100 years, Boston University's College of Communication has prepared students for careers in film, television, public relations, journalism, advertising, and other related fields. COM alums have gone on to do amazing things; the list of former COM kids who have won Emmys, Pulitzer Prizes, and other accolades goes on and on. To commemorate a century of all the accomplishments made by passionate COM students and faculty members, the school hosted COMnival, an unconventional afternoon carnival complete with t-shirts, burritos, and the Old Spice guy.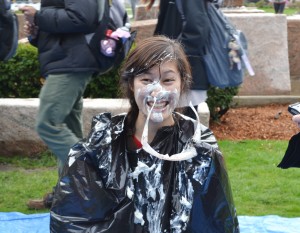 Admittedly, a large part of the event's draw was the free food. Students snacked on free Raising Cane's, Insomnia, and Chipotle. But because COMnival was first and foremost a carnival, students also got to play classic carnival games like ring toss, plinko, and burst-the-balloon. Of course, the most popular activity turned out to be the pie-ing station run by members of COM's Student Assembly; in a testimony to schadenfreude, eager students got to fill a plate with sundae toppings and pie their friends in the face.
Some students did come for the sake of COM, however. "My friend was running the Old Spice event so I wanted to come see that," said sophomore Martine Subey (COM '16). "But when I looked outside I saw a lot more stuff going on and it looked like a lot of fun. And I love COM and wanted to celebrate it."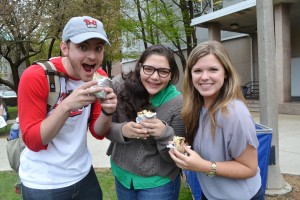 For COM seniors, the carnival was bittersweet. Even though they got free senior t-shirts, the event was just one of many marking the end of their college experiences. "I'm very ready to be done with school, but I'm nowhere ready to be done with college," said graduating senior Molly Koweek (COM '14).
"But this is fun!" said her friend Hannah Rex (COM '14). "I'm running into lots of people that I've had classes with over the years, so it's nice to see people that I've been friends with."
But in the end, COMnival was about the refreshments. "I came for the food," said Namrita George (ENG '15). Because really, what's a college event without free food?