Boston-based blogger Marissa Yaar is a self proclaimed "design fiend." Yarr's blog, The Well-Appointed Catwalk, which launched four years ago, features content regarding design of different forms–fashion, architecture, interior and industrial. Yaar, a 2005 Skidmore College graduate, works as (newly promoted) Corporate Communications Editor at the International Data Group, otherwise known as IDG, the Boston-based technology media company. While her blog has always been a medium for her to publish her writing and showcase her passions, it has certainly grown in popularity. She has earned mentions in publications such as Time Out and Stuff Magazine. She has also befriended bloggers in the Boston community, socializing with the likes of Kristen Uekermann from The Boston Fashionista, Kara Weymouth from Bostonista, and Najeema Holas-Huggins from A Stylized Hysteria. I had the chance to chat with Yaar about her blog, career and life.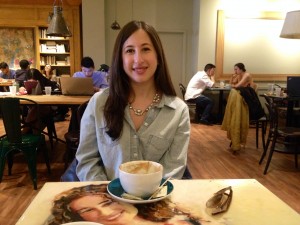 The Quad: Why did you start your blog?
Marissa Yaar: I was kind of under-employed. I was working at the Metro, but it was a contract position and I wanted to write home and fashion stories, but I didn't really have any clips to show anyone. The clips I had were all arts and lifestyle. I decided I would start this blog, and would be able to point editors to it, and that worked out. I ended up getting a gig with Time Out, and Stuff Magazine, which was part of the [Boston] Phoenix. Then it just kind of took on a life of its own, I just kept doing it.
Q: "The Well-Appointed Catwalk"—what inspired the name?
MY: I was trying to think of a name that incorporated both fashion and interior design, or architecture, which is the "well appointed half." And actually my ex-boyfriend came up with it.
Q: I realize you blog about all different forms of design—fashion, architecture, etc. Would you say there is an overarching style or theme of the content you post? 
MY: I think a lot of people don't look at fashion blogging in the same way they look at design blogging, but if you look at fashion and art, it's really the same thing. So I'm just interested in what designers are doing creatively. I just end up posting whatever catches my eye. I'm not too worried about connecting at all—I just end up posting things on the Internet that make me happy.
Q: Where do you find inspiration for your blog?

MY: It's a lot of things that go viral on the Internet and then I try to put my own spin on it. There was a post recently on a big website called Houzz, about this one house that was featured on the show Portlandia. It was a round house and really crazy looking, so I thought that was really cool but obviously I don't want to post the same thing they post, so I went and I looked up the architect and I found some of his other buildings that were really cool and I featured those. So, other blogs are a huge source of inspiration for me. I'll find a lot of stuff there. I'll try to connect things to holidays or whatever's going on, but most of it I find on other websites, or cool things my friends post to Facebook, and I always try to put my own spin on it cause I don't want to just copy other sources.
Q: I saw you recently wrote a post about the Serenella and Adidas campaign by Stella McCartney. That's so topical with the Boston Marathon this week! 
MY: Yes–I forgot to mention that as a source of inspiration—I get a lot of press releases and PR pitches from people, and most of them are terrible. But every so often, there are some really good ones. So the PR person at Serenella invited me to see the Stella McCartney collection, and it was great, it was a great timing with connection to the marathon.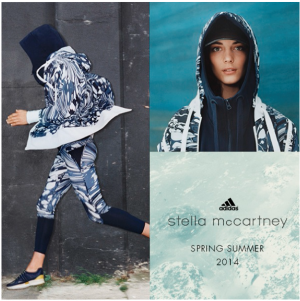 Q: On that note, how does the Boston experience play into your blog, as a Boston native and now living in Boston?
MY: I wouldn't say my blog is Boston focused, but I do like to feature local things whenever I can, so if there's a local event going on, or a local designer, they go right to the top of my list above non-local things that are going on. Also, there's a great community of bloggers in Boston. I was actually out with them just last night because one of them is moving away, and I always felt so nerdy saying it, but I met Internet friends. There's a great group of us who all met through blogging and have become friends outside of that.
Q: Considering your blog features content from places around the world, what other places do you especially take inspiration from–aside from Boston? 
MY: One of the major cities that inspires me is Tel Aviv. My husband's Israeli and we travel there a lot. You wouldn't necessarily think of Israel as a hub of design, but Tel Aviv is such a huge design city .
Q: What about fashion content inspiration? Who are some of your favorite designers? 
MY: New York is always of course—New York always has that. Some of my favorite fashion designers–I mean I don't end of wearing them, I mostly end up wearing J. Crew and Rag and Bone–but I love Phillip Lim and try and find that on sale. Chanel always puts on the best shows during fashion week. I love Bottega Vanetta, Burberry Prorsum. There are so many.
Q: What's been the most rewarding part of your blog experience?
MY: I know it sounds corny but it's definitely the friends I have made—there's such a great community of Boston bloggers and I've really made some good friends. Also, I can't lie, it's great to look at your analytics and see the difference from when you started to four years later, and it's great to get a little recognition from it because you put all this hard work into it. You start out and you're writing for no one, and you're thinking, "Who in their right mind is going to read what I have to say about design?" So it feels good when people tell you they like it and appreciate it.
Q: What advice would you give to young bloggers trying to emerge into the blogging world?
MY: Networking is definitely a huge part of it. Also online networking—the way I made people aware of my blog was to go onto other blogs and leave comments. But you also want to be sincere about it—you don't want to go onto a hundred blogs and leave a comment like, "cool post, check out my blog." Take the time to really build relationships with other bloggers and it will definitely pay off.
Q: What are your aspirations—whether it be in your blog, your career, personally. What are your goals for the future?
MY: Things are going pretty well the way they are. I just got a promotion, I'm happy at work, happy with the blog, I just got married. It's hard to look more than a few years ahead. There are probably babies in there somewhere in the 5-year plan, buy a house eventually and be a real grown up. For now, I'm just trying to enjoy life with fewer responsibilities and being able to still live in the city before real adulthood takes over.
Q: Thanks so much for your time, Marissa! 
Be sure to follow "The Well-Appointed Catwalk", here.
Interview was shortened for length.