When Forts/Gainesville took the stage at Great Scott last Thursday night, the average member of the crowd was blinded by the sheer star power of lead vocalist and guitarist Brian Barthelmes's pants. The stage was set for an all-out man versus garment showdown of just who would prove to be the better entertainer. But when the band kicked off their set, it was ultimately decided that rock and roll trumps just about any contender.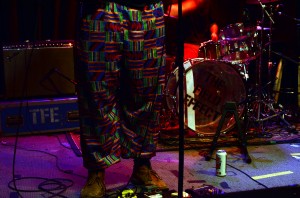 Forts/Gainesville is the side project of Barthelmes and drummer/multi-instrumentalist Matt Raskopf, both of the Boston band Tallahassee. It's evident that the two have been making music together for a while, as they displayed the sort of comfortable amiability on stage that is hard to come by. "People have been saying we make rock and roll music you want to drive to," Raskopf says. He describes the project as being a chance to explore songwriting on a more personal and focused level.
The duo and a guest bassist, courtesy of the band's "patented 'Bass Roulette Wheel,'" played a set that was heavy on catchy harmonies and guitar riffs. Barthelmes, despite proclaiming that he was overheated in his funky fresh pants, didn't appear to be at all in physical discomfort as he sang whole-heartedly, his enthusiasm pulling the crowd in. There were a few double takes when Raskopf appeared to play–nay, in fact played–both the drums and the keyboard at the same time, all while singing backup vocals.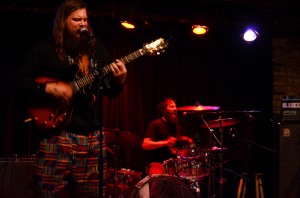 The songs, detailing everything from love in "Go On" to the importance of taking time to take care of oneself in "When You Get that Feeling," and the classic drunken night in "The Bar Song," contained layers of introspection and earnestness that shone through on stage. Ultimately it's the honesty contained within the music of Forts/Gainesville that makes them instantly likeable. And yes, if I could drive, I would definitely drive to it.
Forts/Gainesville will be playing next on April 26 at the Loft in Somerville.