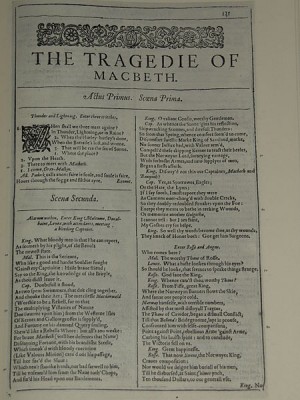 This past weekend, CFA's School of Theater put on a production of Shakespeare's Macbeth that was enough to make your hair curl. The show was nothing short of creepy and was ever the better for it.
The workshop production was a prelude to next semester's performance with the New England Classic Repertory Company. Although this macabre show only featured seven actors, next semester's performance of the classic Scottish tragedy will have a full cast.
True to the text, the show was dark and mysterious. It made use of a Theremin, a "hands-free" electronic instrument that produces eerie, otherworldly sounds. The lighting was also eerie, with bright red filters creating a blood-like effect. Even the sitting area was discomforting; upon arrival, the performance studio was pitch black with a single light aimed at the audience and long wooden poles arranged in the shape of a pentagram on the floor (um, freaky!).
What really made the production unnerving was its brilliantly minimalistic approach. It only used a handful of props and lighting cues to set a scene, which created a stark environment for the story to unfold. Purposefully or not, the bleak design also left the audience free to use their imagination to fill in whatever grim details they desired. Whether it was the fake blood on Macbeth's daggers or the mimed slaughter of a nobleman's family, the show sent some serious shivers up and down your spine.
Acting-wise, the show favored quality over quantity. Although all but two actors performed multiple roles, each character was distinct and well-executed. The chemistry between Sean O'Brien (CFA '14) and Hayley Sherwood (CFA '14) as the Lord and Lady Macbeth was captivating- and steamy (wink, wink). The scene stealers, however, were the Weird sisters, played by Adelaide Burich (CFA '16), Lucy Farmer (CFA '16), and Paige Friedman (CFA '14). The three witches absolutely took the cake for creepy: throwing their heads back, they would chant their lines in raspy unison while bathed in a glowing red light. Even when spoken in rhyme, their sinister prophesies were enough to give you the heebie-jeebies.
In the past, Macbeth's dark plot was too much for audiences to handle. For years, a less-scary version was performed that turned the witches into comic relief instead of supernatural terrors. But in modern productions (like this one), the Weird sisters run around in their full, Grudge-like glory.
Double, double, toil and trouble, indeed.