All photography by Eden Weinberg. 
What began as a fun way to occupy free time has become a lifestyle for Boston University College of Communication freshman Tianna Gallinaro—and one that has opened many doors, namely internships with CollegeFashionista and UsTrendy. The South Florida native and prep style guru launched her blog Big City Tyro just last summer. Since, Gallinaro has had mentions in The Boston Globe and appearances in blogs such as The College Prepster.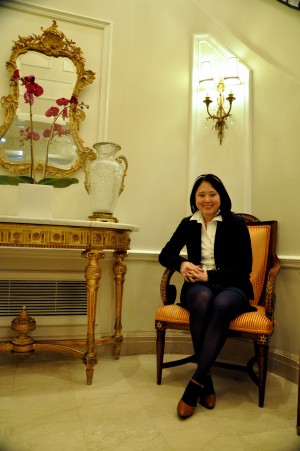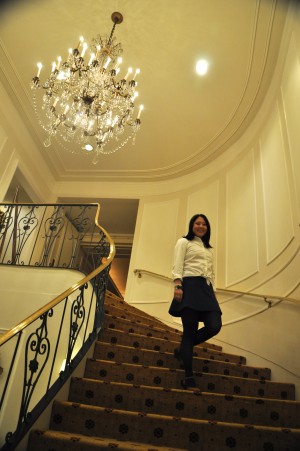 I had a chance to chat with (the lovely) Gallinaro this week: 
Quad: Why did you start your blog?
Gallinaro:  I love reading blogs—I figured I should start one because I have always wanted to. I was really tentative at first, even to show my face, but then as I came here, a lot of people in [the College of Communication] were like, "You should start a blog and create an online footprint." I thought, "Okay I'm going to run with it." I've gotten to meet so many awesome people so far and have had so many awesome experiences. It has become a great creative outlet.
What inspired the name of your blog? 
I'm from a suburb in Florida. We're close to big cities, and I've always wanted to live in a big city, but coming to Boston was still a big change. "Tyro" means "rookie" or "beginner" so [the name suggests] I'm a beginner in a big city.
How would you describe your personal style?
I definitely have a preppy undertone, but would say it's classic with a little bit of a twist. I'm not afraid of trends, but I definitely do stay pretty preppy and traditional.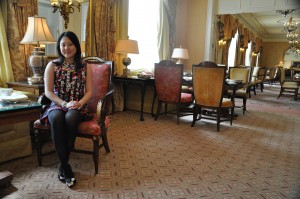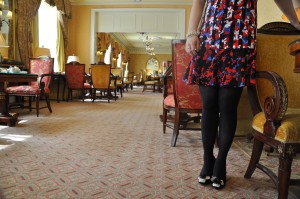 Judging by the content on your blog, you seem to be inspired by designers like Kate Spade and fashion houses like J. Crew. Can you speak to that a little bit? 
Yeah, what I really love about J. Crew and similar brands like Ralph Lauren is that they incorporate a lot of trends and modern things. The thing with preppy [brands] is that a lot of it is classic designs that never go out of style, are very versatile and great quality, so you could say they last forever. 
What I love about Kate Spade is that they have really fun designs all the time—quirky little accents. I actually got to hear [Craig A. Leavitt], C.E.O. [of Kate Spade & Company] who owns Kate Spade, at the Harvard Business School Retail and Luxury Goods Conference. It was interesting hearing him talk about the company and how they mold it towards the modern, 24-year-old girl who just graduated college and is having fun with life. I definitely feel like that embodies the brand and even how I dress.
Any other brands you especially admire? 
I love some of the higher end brands like Marchesa and Alexander McQueen. I also really love the smaller nautical [wear] company Kiel James Patrick [which is based] in Rhode Island–blogger Sarah Vickers is involved with it–because all their products are handmade in the United States and they're just really good quality.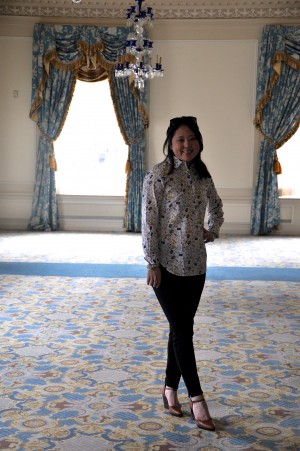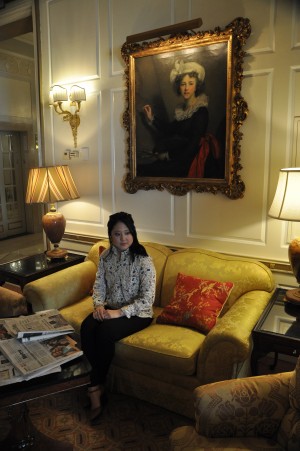 What has been the most exciting experience in your blogging career thus far? 
I think the biggest thing was when I was featured in The Boston Globe. Never in my wildest dreams when I started my blog in my room last summer did I think I would be featured in The Boston Globe ever, let alone for my blog, so that was really cool.
I realize you are currently interning with CollegeFashionista and UsTrendy. What has that been like?
With CollegeFashionista, I write a blog post every week and highlight a student's style that you like every week. I write about what they're wearing–how their outfit fits a certain event. I have really great editors that are constantly critiquing my work. 
My other internship with UsTrendy is really great, I love it–they are really nice people too. It's one of the big e-commerce websites [featuring] indie designers around the globe who sell their products on the site. So they make the products, doing what they do best as a designer and we take care of the business end. With that, I'm learning lots of marketing and public relations skills, doing things with social media, reaching out to clients who would like to sell on the site. We're also launching our new site soon, which is really exciting because I know they've been working on it for months and I will be learning things about brand partnerships, pitches, things like that. It's really hands-on. 
When I went in for the [UsTrendy] interview, I was thinking, "Wow, I'm a freshman, I have really no experience in public relations, so this is just going to be a fun thing to get interviewed for." But they really believed in me, and I was like, "I'm a freshman, I really don't have much experience, but I really have the drive and I really want to learn, because I want to work in the fashion industry when I graduate." And they said, "You know what, you seem really passionate about it and you want to work hard, so we'll give you a shot."
What's next for you, considering you'd like to continue into the fashion industry? 
I think I have the typical girl dreams of moving to New York City. I don't have the grand visions of Sex and the City where I'm going to have the Park Avenue apartment, maybe one day…But I'd love to move to New York City and work in the fashion industry, more so in marketing now as I am interested in that. Something in that direction. 
Thanks so much, Tianna! 
Be sure to check out Gallinaro's blog Big City Tyro, here.
Interview has been edited for length.