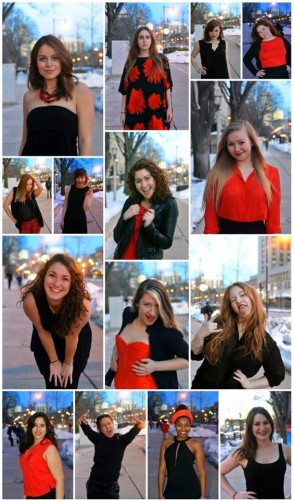 This past weekend's production of The Vagina Monologues was nothing short of perfection.
The Vagina Monologues is an episodic play written by feminist activist Eve Ensler. The show is a compilation of monologues based on  interviews with 200 women that, when put together, paint a stunning picture of what it means to be a woman—love, pain, and vaginas included.
Here at BU, the show is put on by the all-female theater group Athena's Players and wow, do they put on a show. The audience laughed, cried, and even moaned along with each performance as each girl took to the stage to reflect on what it means to have a vagina.
As it turns out, having a vagina means a lot of different things.
For some, it's something to keep hidden. "It's a place. A place you don't go," said Samantha Baum (CAS '14) in the touching monologue "The Flood," based on an interview with a 72-year-old woman.
For others, it's a sense of pride. "Va–gi-na, motherfucker!" screamed MJae Kim (SMG '14) in the hilarious rant "My Angry Vagina."
However, a recurring theme was the idea of uncertainty and shame about vaginas and sex. More than one monologue brought up the fact that, as females, we are taught that sexuality is bad and not something to be openly discussed. For the performers, being involved in the show was a chance for them to vocalize and break down those stigmas and stereotypes about female sexuality.
"I'm excited to address a topic that is pretty stigmatized," said cast member Lana Fernandez (COM '14). "I'm excited to say these things out loud!"
"I'm excited to challenge some people's perceptions about vaginas—and maybe change some people's minds about the word 'cunt' and pubic hair," said Claire Sutton (COM '14), referring to her memorable monologue "Hair."
Challenging those perceptions is what makes The Vagina Monologues so powerful.
Whether it was Kara Korab (CAS '14) charmingly declaring "Pussies unite!" or Jessie Torrance (COM '15) yelling "BE MY CLITORIS!" or even Lori Kovacevich (COM '14) getting the entire audience to scream "CUNT!," every second of watching the performers own their vaginas was empowering. The performances were candid, relatable, and absolutely unapologetic.
As Greer Rosenzweig (SHA '14) put it when comparing the pleasure capacity of a penis to a clitoris, "Who needs a handgun when you've got a semi-automatic?"
Well done, ladies. Well done.