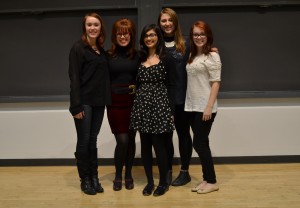 Wednesday evening, Student Health Services and BU Students for Reproductive Justice turned the Photonics building into a delightfully dirty mélange of sex, smut, and social awareness.
The occasion? Clinical Sexologist and Sexual Educator Megan Andelloux (of Oh Megan!) and her aptly-titled lecture "Get Wet: Exploring the Connection Between Sexual Health, Pleasure, and Advocacy."
If you hadn't noticed, BU is way into sexual health. With popular programs like the SHS Condom Fairy and the Ask the Sexpert blog, BU makes sure that its students are prepared and protected when engaging in "extracurricular activities."
"I'm really excited that our university is open-minded enough to host this event," said BU Bedsider representative Meilyn Santamaria (SAR '14). "This event will bring awareness in a fun way. It's a good way to ease into a conversation that we should all be having."
As it turns out, Andelloux's entire lecture was a conversation.
For two hours, Andelloux engaged the audience in an interactive X-rated discussion about sex and sexuality. Using everything from cat pictures to vulva hand puppets, she presented the audience with the cold, hard facts of sex and everything that comes with it—orgasms, IUDs, and sparkly butt plugs included.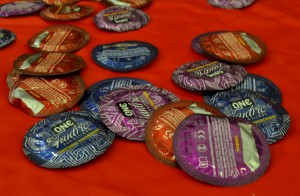 A big focus of her lecture was sexual safety. "YES is a super-sexy word!" she proclaimed, before launching into the proper etiquette for pelvic exams. Heads up, ladies: if you're 21 or over, you should be getting pap smears every three to five years!
In a particularly memorable moment, she had an audience member slide into a strap-on to demonstrate proper condom use. Rolling a bright purple condom onto the cloud-covered strap-on, Andelloux explained how colored condoms are safer than regular condoms because colored ones are easier to see; "They're a quick visual check-in and you can color coordinate things for the holidays!"
But naughty things aside, the take away lesson of the night was feeling comfortable with thinking and talking about sexuality. "Uncomfortable feelings [about sex] come from lack of exposure and lack of conversation," she said. "A lot of people just stumble into sex and go with whatever information they have about it—accurate or not—so conversations about sex are really important. My favorite part of this workshop is demonstrating that you can talk about sexuality."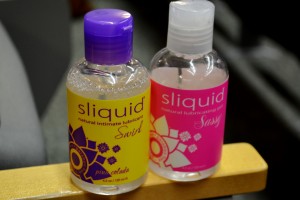 Assistant Philosophy Professor Susanne Sreedhar, who was present at the event, echoed Andelloux's view of informed sexuality. "Whatever sexual health is, information is crucial to it," said Sreedhar. "Being well informed is the key to being a sexually healthy person."
Luckily for us, sexual health can be fun. With a potpourri of vibrators, nipple clamps, and yes, sparkly butt plugs, Andelloux demonstrated that a healthy sexuality can entail a whole lot of things, as long as you're comfortable with what you're doing—or using.
Hey, whatever floats your boat!
Sex toys provided by Good Vibrations in Brookline.
The Condom Fairy is doing a special Valentine's Day promotion- order a condom delivery during the month of February and you'll receive a surprise tantric treat!