They're here. Swarms have been spotted on the T, herds congregate in the GSU, and gaggles flock to Bay State Road. There simply is no escaping them. The Canada Goose jackets have arrived on campus in full force.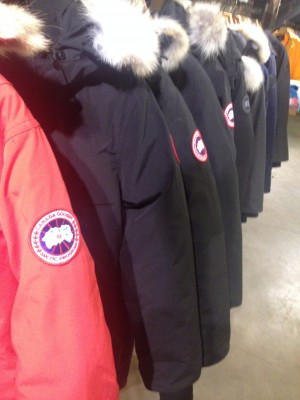 So just what is the allure of these parkas? Why are they everywhere?
The Canada Goose company was started 55 years ago in a small warehouse and has quickly become one of the world's leading manufacturers of "extreme weather outerwear." Canada Goose prides itself on keeping 100% of all production based in Canada and boasts an impressive lifetime guarantee. In a promotional video, Maria Arruda (a trimmings sewer for the company) claims that "our jackets, if you take care of them, are there for life," saying "the quality is completely different" from competing outerwear products.
These incredible standards coupled with their ubiquitous presence around campus makes the Canada Goose jacket appear to be the obvious choice for anyone looking to keep warm in these frigid Bostonian months. There's just one catch. These "light as air" coats carry with them a hefty price tag. With the typical parka ranging from $500 to $900, the question remains; are we paying for extreme weather protection or the status symbol stitched on to the sleeve?
Along with its reputation for high quality products, Canada Goose brings upper echelon connotations with its iconic circular logo. The brand is famous for never going on sale and has come under attack for its use of real coyote fur in its hood lining. As far as the brand's advertising strategy is concerned, you won't be seeing any Canada Goose website banners any time soon. They rely on celebrity endorsements and word of mouth tactics to build their customer base. As was recently mentioned in a Huffington Post article, rapper Drake partnered with the company to produce a limited edition jacket featuring 24k gold plated zippers, buffalo leather exteriors, and a hood with arctic fox fur trim.
For those seeking the style without the price tag however, it's bad news all around. Following a recent report in which the company sued Sears Canada Inc. for selling knock-offs their "highly distinctive" outerwear, Canada Goose has created a section of their website devoted to identifying and shaming potential copy-cat producers. However, as an employee at one Canada Goose retail location said, "there's nothing proprietary about them" aside from the arm badge, and "the jackets are incredibly simple to make and are pretty much organic," making them easy to manufacture in large quantities. As of now, the company restricts their production based on hunting laws which makes their limited quantity all the more desirable.
But we are not new to this "sticker shock" phenomenon. We lived through Ugg boots, Juicy Tubes lipgloss, Razr cell phones, and the rebirth of Doc Martens. All of which arguably cost way more then they were worth. One trip to Urban Outfitters will prove just how far we are willing to go to remain "hip" and "trendy." What sets Canada Goose apart is its insistence on creating a high quality product that will last indefinitely. One retailer has said that over the nine years they have carried the brand, they have seen a steady increase in customers and almost no returns or complaints.
However, is it necessary? Does Boston truly have the "extreme weather conditions" that Canada Goose protects against?
In light of the recent "polar vortex" it would seem like investing in a good jacket might not be such a bad idea. But, while temperatures bottomed out recently around the single digits, Boston's got nothing on the sub-zero climates of Chicago and Minneapolis, for example. Not to mention the fact that the U.S. as a whole doesn't come close to the arctic temperatures at which each Canada Goose parka is intended to be used.
As far as student motives for purchasing the parkas go, Holly Salcedo (CAS '17) noted that "at first I saw that they were popular so I looked up the brand, and then I looked up the reviews, and then I decided that I had to have it, because they're the best." Another student, who wished to remain nameless, mentioned, "I'm from North Dakota and it gets really cold," adding that "all of my friends had them." Thus proving that peer influence is definitely a factor in this parka-demic.
Nearby Tufts student Lydia Collins also noticed the presence of the jackets growing on her campus, saying, "I looked them up and I am flabbergasted that something so expensive could be so prevalent."
In short, the Canada Goose jackets seen on campus appear to be more trendy than practical, however, they definitely have the substance to support a quick trip to the North Pole. So here's hoping that those spiffy jackets keep you toasty warm for many winters to come.