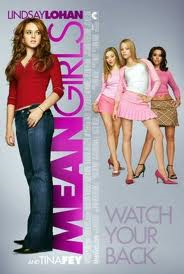 "So if you're from Africa, why are you white?"
"Oh my god, Karen, you can't just ask people why they're white!"
Unless you've been living under a rock for the past ten years, you know exactly what movie these lines are from and you can probably even quote that entire scene. This was the case Saturday night at BU Central as over 250 BU students gathered for an interactive screening of Tina Fey's cult teen classic Mean Girls.
Students crammed themselves into the venue (literally, crammed- the line for the event was out the door) for the chance to dress like their favorite characters, eat Kalteen bars (because we all want to lose three pounds), and of course, scream their favorite lines along with a roomful of fellow Mean Girls fanatics.
"Damian is my spirit animal," said Christiana Kalfas (CAS '16), sporting Damian's blue sweatshirt and stunna shades (à la the gym scene) for the costume contest. "'She doesn't even go here!' is my favorite line."
Although the prize for the costume contest (free Back Bay Ball tickets!) went to a Ms. Norbury lookalike in a PJ Calamities vest, Christiana and everyone rocking mouse ears and tank tops with purple bras all looked grool. The winners of the trivia and dance contests were just as grool- their efforts won them Ellie Goulding and Arctic Monkey tickets (which was totally fetch).
2014 marks the tenth anniversary of Mean Girls. Released in April of 2004, the film is based off the self-help guide Queen Bees and Wannabes: Helping Your Daughter Survive Cliques, Gossip, Boyfriends and the New Realities of Girl World by Rosalind Wiseman. After reading the book, Saturday Night Live vet Tina Fey wrote Mean Girls to be a satire of the clique-y high school world that girls (and boys) find themselves thrust into.
"[The] things that girls do and the way that girls will mess with each other is sort of ingenious,"  Fey said in an MTV interview about the movie.
Luckily for us, Fey's depiction of that "ingenious" way girls interact with each other (girl-on-girl crime, anyone?) is both spot-on and hilarious. The fact that the high school drama in Mean Girls is so exaggerated- but in an almost-unnervingly realistic way- makes the movie a guilty pleasure flick that is easy to both relate to and enjoy.
Saturday's screening was meant to be a celebration of the movie in all its plastic and mathletic glory.
Watching it with an entire roomful of people who know it verbatim was quite an experience- hearing 250 people scream "We should totally just STAB CAESAR!!" was both exhilarating and terrifying. But the sense of camaraderie created by hearing everyone laughing and quoting their way through everything from the Regina rumor montage to the trust-fall apologies was absolutely priceless.
If you've never actually seen Mean Girls, you should add it to your Netflix queue immediately. But to all the Bad-Ass M.C.'s out there: don't let the haters stop you from doing your thang.
Bonus: If you need to brush up on your Mean Girls quotes, check out this awesome Thought Catalog post!