Last October, New York-based hip-hop artist Topaz Jones performed at Boston University's BU Central and was interviewed by The Quad's very own Jon Giardiello. In that interview, Jones talked about where he comes from, where he sees himself in relation to other hip-hop artists of the modern era, and what his then-upcoming new album was shaping up to look like.
Flash-forward to the present: This past Tuesday, January 28th, Topaz Jones dropped that new album, titled The Honeymoon Suite. The 16-song collection finds Jones building on his deeply dynamic and multi-faceted approach to the medium, which clearly continues to set him apart from many of the other big names in the hip-hop game.
The Quad kept an eye on Topaz Jones and caught up with him to talk about The Honeymoon Suite.
The Quad: I wanted to talk to you about The Honeymoon Suite. How long have you been working on this album?
Topaz Jones: I think we did some of the first songs for the project in late 2012, like October. That's when we really started locking ourselves in the studio and working on it. I know I had the beat for "Coping Mechanism" in the summer before that and that was the first thing I produced for it, but we really started making the music around October and then, from there, we had the majority of the album done by April. And then we spent a little extra time refining it, ended up adding a couple of new songs, I brought in some friends of mine to feature on it, and now we have what is being released, which I feel like is a really solid project.
The Quad: The last time we talked to you about the album, you were here at BU and you talked to The Quad. You couldn't tell us too much about the album at that point but you told us that you wanted the album to sound like walking through a honeymoon suite or hotel where no two songs sound the same. Do you feel like you succeeded in accomplishing that?
Topaz Jones: Yeah, I feel like I definitely did. I've only been able to listen to the full version [of the album] five or six times now, because we just now got the final mixes and got the last feature in. Listening and playing it back, though, I can really see the wide range of directions and the production and the subject matter and the way I approach things vocally. There are definitely differences from song to song that happen to all really work together as a unit, which I'm really proud of myself for accomplishing.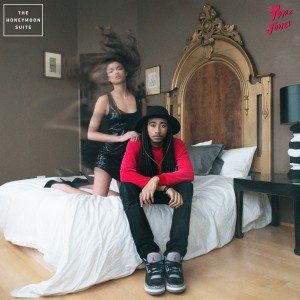 The Quad: What inspired you to create an album with that kind of dynamic effect?
Topaz Jones: You know, I'm a person who gets bored easily and, I'm not trying to sh*t on anybody's music tastes, but I just feel like there's a lot of redundancy and monotony in what's going on in music, especially urban music currently, and because of that, I want to be the type of artist where no album sounds the same, and follow in that path of the true auteurs who move from one project to the next and evolve over the span of a career. I realize that the perfect way for me to start would be by creating the most diverse type of album that I can put out, which can show all of the different places that I can take it.
The Quad: The songs all do feel and sound very different, but they also kind of flow together in a way that I can't entirely explain. Is there an overall story, theme or style that you're really trying to project over the course of the album, or is it mostly just about the diversification of sounds and tones?
Topaz Jones: There's definitely a lot of my story in there. There are certain things I held back on just because I don't want give people everything just yet. I still have a lot more to say. There are topics in the album that I have never touched on prior to making it. As far as the theme goes, the "honeymoon" idea applies much to the tone of it [the album] in terms of the start of something new. It's as much about that as it's specifically talking about a relationship… that being said there is definitely a relationship narrative that's interwoven in this project that pokes its head out repeatedly and if you follow, it's almost like the album has markers every couple of tracks that sort of develops that story. If you pay attention, there's definitely a story being told there. But it's not exclusively what the album is about.
The Quad: When I was listening to the album, I picked up on what I thought were some of the major themes running through it. It often seemed to come back to an apparent concern with your inability to completely trust other people, largely based on how many people may not have your best intentions at heart or see you for who you really are for a number of reasons—specifically in the tracks "Backstabbers," "Livin' A Lie," and "Gasping for Breath." Does that kind of concern, specifically, play a role in the creation of a lot of your material?
Topaz Jones: That's interesting that you point that out. When I was [starting] the album and was working on it, I was very new to New York and that's part of the whole start of something new. It's me moving to a brand new city, being thrown inside this huge space, and beginning to feel small, like a small fish in a big pond. And part of what comes with that is feeling a little uneasy or paranoid, where you haven't reached your comfort zone yet. Everything was new. There was a lot of getting used to things and I think that kind of came across in a lot of the songs. Definitely.
The Quad: I know you didn't direct the "Gasping for Breath" music video, but I'm sure you have something to stay about its visual style and how it relates to the story that you're trying to tell in that video.
Topaz Jones: Absolutely. Shout out to Simon Davis and Jason Filmore, who directed that video. With that video and "Gasping for Breath" and all, it holds a lot of the tension and the paranoia and the feelings that I had when I first began the project. Then, over the course of the project, I kind of worked a lot of that out. You can kind of hear the songs where I start to get more comfortable. "Gasping for Breath," for me, is one of the cornerstones of the project, especially when people hear Part II, which is only on the album. As far as visually, we tried to represent a lot of what the album is about and a lot of those feelings in the best way that's visually possible. It's really just Simon and Jason and me trying to facilitate that and also bringing in elements of things that I wanted to communicate as an artist as well.
The Quad: What do you hope listeners will most take away from this album? Or would you rather leave that up to the listener?
Topaz Jones: Obviously, a listener is going to take away what they take away based on their own personal experiences and how they relate to the music. I just hope that people can both learn from my experiences, share in my joyous moments, and get a better and more accurate understanding of who I am as an artist and as a human being. At the end of the day, for me, this is like a new beginning and a brand new starting point. So for a lot of people, this is going to be them getting to know me, and the beginning, hopefully, of a long career. It's just important to me that people get an accurate view of who I am and really understand where I'm coming from. Also, for them to just be prepared for the level of quality that I'm going to continue to put out and associate with my name and my brand, which is only putting out the top quality of material, and [for listeners] only to expect bigger and better things in the future.
The Quad: Where are you going from here, and what are you working on next? Or are you taking a little break right now after just dropping this album?
Topaz Jones: I had to take a break for the past couple of weeks, just because we've been doing lots of releases. January was a busy month for me. I'll definitely take a second to breathe, but honestly I never stopped working. I already have, like, ten beats produced for the next album. I know the direction, I know what the videos are going to look like, I know what the album cover [will] look like, so I already know what the next challenge is. I'm jumping from this diverse project into a very cohesive project next, so, once I had that concept, I couldn't really stop myself or slow myself down. Hopefully new music will not take as long this time, because there was a big gap between my last release and this one. Hopefully this is the beginning of me putting out music more consistently, and I'm not really stopping at all.
I'm going to be back at it in less than a week.
Stream or download The Honeymoon Suite here. Follow Topaz on Twitter or like him on Facebook.