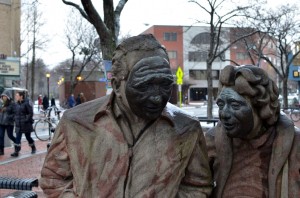 You might ask yourself, "What's so special about Somerville that I should make a 40-minute commute through the Arctic tundra that is the outside world at present to get there?"
Well, phonetically pleasant sounding name aside (note: SUMMER-ville), this neighborhood is a cultural hub for music, food, and art. This could definitely be attributed at least in part to the fact that Somerville is increasingly attractive as a residential area to a younger, post-graduate demographic.
Starting at Davis Square and branching out toward neighboring Tufts University and Porter Square, Somerville is inviting both in the way of its independent enterprises as well as in being a visually interesting neighborhood to walk around, coffee in hand.
A Day in Somerville
In the A.M.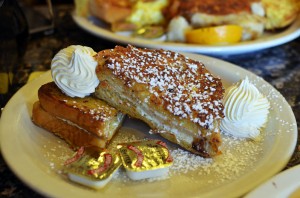 Brunch at Ball Square Café (708 Broadway): Now, if you are in the least bit familiar with this column, you might have figured out that we take our brunches pretty seriously, and so, apparently, does Somerville. Meander over to Powder House Square on a weekend mid-morning and you will find two lines of people, both similarly long, outside adjacent buildings, and both formed with similar intent: the quest for brunch. The final destinations of said lines: SoundBites and Ball Square Café respectively. Naturally the issue of which line to get into was a bit of a conundrum, but that was quickly settled when we saw that the owner of Ball Square Café was outside, making sure that everyone waiting to eat at his place was alright, and encouraging them to take advantage of the self-serve coffee and tea station inside.
The 20-minute wait in the cold is more than worth it for this king of brunch places. With a menu that is comprised solely of breakfast food (read: an ENTIRE menu with multiple pages and everything), there are several options for every category of breakfast. Portions are generous and prices not too outrageous. Needless to say, our omelettes were eggs-cellent.
Peruse local crafts at Magpie (416 Highland Ave): An independently owned store in Davis Square, Magpie offers a mish-mash of wares, from T-shirts and jewelry, to little toys and art. The great unifier? Everything is made by artists local to the Boston/New England area.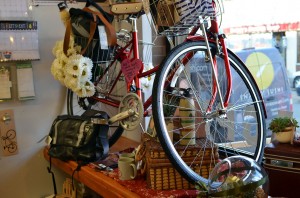 In the P.M.
Pore over curated vintage at Artifaktori (22 College Ave): Offering everything from cameras and clothes, to furniture and art, Artifaktori prides itself on the care with which the items found within are collected. The "vintage" label in this case is well-deserved as there are artifacts that date back to the early 1900s in the store, as opposed to the usual funky-smelling, loudly-colored suspects we have come to associate with the term.
End the day on a sweet note at Taza Chocolate Factory (561 Windsor St): For only $5 a piece and an online reservation, spend an hour behind the scenes of every kid's diabetic dream. The tour includes insight as to how Taza makes its special stone-ground organic chocolate. And of course, a tour of a chocolate factory wouldn't be complete without free samples!
There is a lot more that can be said about Somerville in terms of where to go and what to do, as there really is more than merits a reasonably-sized blog post. But ultimately, half the fun lies in discovering its cafes, movie theaters, and Museum of Modern Renaissance (?) for oneself. So go forth and brave the winter, for it is most definitely worth it.