On Friday, Amazon Instant Video countered video streaming rival Netflix with the premiere of its first original series, Alpha House.
Alpha House is a political comedy starring John Goodman, Clark Johnson, Matt Malloy, and Mark Consuelos as four Republican Senators who share a house on Capitol Hill.
The series was produced in-house through Amazon Studios, the online retailer's production company division, and is its debut production. Alpha House is the result of the division's unique development strategy, in which ideas are crowdsourced through an open call for script submissions then subjected to rounds and rounds of user feedback until a handful emerge as fit for distribution.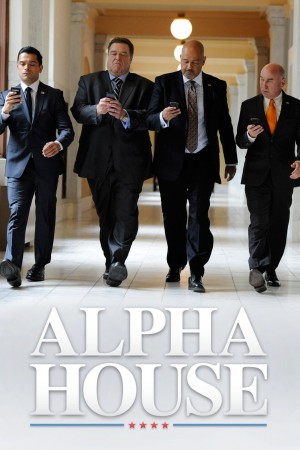 As the first product of this Darwinistic strategy, Alpha House reflects audiences' desire for quality programming and a popular sentiment of political cynicism.
With its crisp cinematography, uncensored nature, and star cast (plus guest appearances that include Bill Murray, Wanda Sykes, and Stephen Colbert) that delivers very fine performances, Alpha House seems to be presenting itself as a comedic version of Netflix's House of Cards. However, the series is not quite on par with the Netflix original, or other political satires, for that matter.
Despite its realistic filming style and acting, the series possesses quite a cartoonish feel. Simplified as crooked, indolent, meek, and cocky, the characters of Alpha House are more like caricatures of congressmen. Opportunities to reveal their depth are eschewed, in favor of quick jokes. This cartoonish feel came as no surprise though when the ending credits rolled and "Created and Written by Garry Trudeau"–the Pulitzer Prize-winning cartoonist of the legendary comic strip Doonesbury– appeared.
The show's writing is a blend of predictable sitcom humor (e.g., being caught naked by your friend's girlfriend) and clever Washington politics ribbing (e.g., the Senators' home has readily available a cup of patriotic flag pins). Unfortunately though, this blend of humor is quite unbalanced. Alpha House is much more so standard sitcom follies than the witty satire that has become such a staple of American programming.
The irony about Amazon's first original series is that it really isn't original. The program fits the standard 30-minute comedy format, uses star actors to draw in viewers, and continues the trend of skewering Washington (particularly Republicans), but does not differentiate itself from similar programs, such as HBO's Veep. And unlike fellow online distributor Netflix, who catered its original series to the trend of binge-watching, Amazon will follow a more traditional release strategy with Alpha House: similar to premium cable channels, the first three episodes of the series are available free to anyone, while the remaining episodes will be released weekly, available only to Amazon Instant Video customers. Given the complete freedom of the Internet, Amazon has only taken advantage of the new medium's lack of "bleeping" naughty words.
While Amazon's development process means it likely won't be putting out any pioneering works, it does suggest it will deliver an improvement on what has already been proven. Alpha House is better than most anything on network television, but not by much.
Episodes of Alpha House are available on Amazon Instant Video