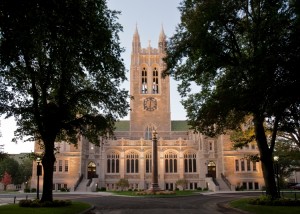 If you're a student here at Boston University and are familiar with surrounding schools, then you must know what forbidden territory rests at the end of the B-line of the MBTA. Jokes! Although Boston College is viewed as competition on a number of levels, their campus and surrounding area should hardly be considered off-limits. It may take you a short ride—or long one depending upon the kind of day you're having—down the green line and into Chestnut Hill to get there, but once you have arrived, there are plenty of small destinations to take advantage of. Much like Emerson, BC is yet another school that I visited when trying to decide which institutions I should apply to. It was a bit odd revisiting the area, I must admit, but now that I'm almost four years older and equipped with a new set of eyes through which to take in all that the area has to offer, I found it pretty enjoyable, and worth the visit.
Shortly after stepping off of the T at Cleveland Circle, unless you fancy a walk from one of the previous stops, you'll be within arm's reach of one of the most fantastic hidden pizza spots around the area. Pino's Pizza is a small eatery within close proximity to the College, and if authentic Italian-tossed pizza is what you're craving, then this is where you need to go. I haven't tasted pizza like that since members of my own family shoveled it in and out of a restaurant we used to own back on the outskirts of Philadelphia, and anyone else who knows the kind of food I'm talking about should be dashing to reload their Charlie Cards. If you have not yet experienced this wonder, then my advice would be to carve a little time out of your day and make room in your stomach. Once you've had your fill, take a stroll on over to campus!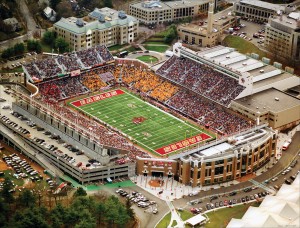 Boston College's campus is a bit different than what BU students may be used to. We have our little slice of Commonwealth Ave…okay, we have a huge chunk cut out for us, but no matter. Boston College, however, is a little more closed off and private, and if that's the kind of atmosphere that suits you well…I either hope you're already there, or not here, because our little anti-campus is pretty much an open book to the entire city—and we love it! Most of the time. The cluster of traditional stone buildings and pockets of lawn—aside from being pretty much dried up now, due to the change of season—make for more of a traditional collegiate feel than our stretch of city blocks, or Emerson's collection of buildings and facilities. One other thing that BC has to offer that BU does not is football. If you're the kind of person who was a little let down when you found out that BU didn't have a football team—and trust me, for someone who was raised on a coupe of Penn State games a year, it was a tiny bit of a letdown—you'll be able to get your fix by heading on down to our somewhat-distant neighbor. I have to say, though, that after almost three years in Boston, the real excitement builds at the BC vs. BU hockey games—just my opinion, take from it what you will.
While Pino's is delicious, and a football game here or there may be fun, aside from a leisurely walk around campus and the immediate surrounding area, there isn't too much else to do up in Chestnut Hill. Nothing that you won't find over in Cambridge, that is, so if you're looking for more of an adventure and don't have a friend or two that can facilitate an overnight stay—perhaps showing you some behind-the-scenes fun that only students would know about or have access to—then I'd say your best bet would be to sacrifice the bliss of a slice of Pino's and stroll over the bridge or into the city.