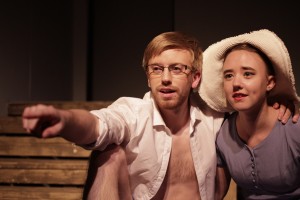 "It scares me Eurydice – please come back." -Orpheus
If you're someone who legitimately wept at the end of The Notebook, you might want to avoid Boston University Stage Troupe's production of Sarah Ruhl's Eurydice.
You might not make it through the ending.
Eurydice tells the story of Orpheus and Eurydice, a newly engaged couple on whom tragedy befalls when Eurydice dies on their wedding day. Fraught with despair over the loss of his beloved, Orpheus connives his way into the Underworld and demands the return of his wife. The Lord of the Underworld relents, but only under one condition: as Orpheus travels back to the land of the living, he cannot turn around to look at his wife.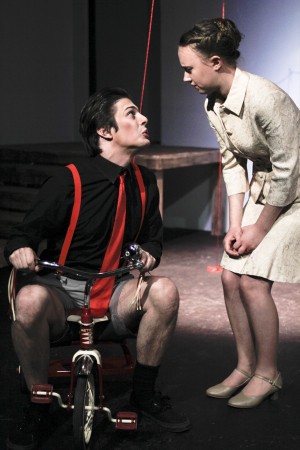 You can probably guess what happens next.
On his journey home, Orpheus hears Eurydice call out his name, and as he turns to gaze upon his love once more, he must watch helplessly as the Underworld reclaims its prize.
It may sound like an old, worn-out tale of romance, but BUST's production hits a nerve with its raw, stark portrayal of the heartbreaking struggle to hold onto that which is lost.
The ability to forget is often more of a blessing than we realize.
Yet, Orpheus is not the only one who refuses to let Eurydice go; her father, who preceded her in death, clung to her memory in an afterlife inhabited by "stones," the hollow shells of the deceased who have lost all memory of the world of the living. The stones do not understand the word father, they are forbidden to feel sadness, and most of all, they cannot remember names.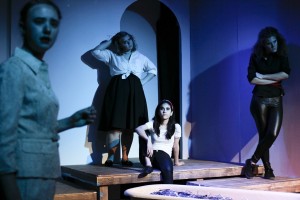 Eurydice enters the Underworld primed to settle into her role as a stone, ready to heed the chilling counsel of those who perished before her: "Forget the names – the names make you remember."
Her father has other plans: he nurses her back to memory, back to life, ready to meet her husband when he comes knocking on Hell's door.
But she was dead, and Orpheus should have let the dead lie.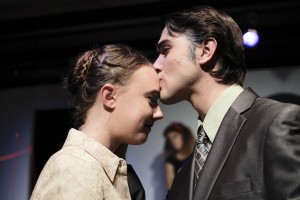 It's the human tragedy that no matter what we do in life, fate will inevitably have its way with us. As Orpheus and Eurydice's father soon learn, when you try to challenge fate, even your victories come doused in despair.
It's a pain we all must face at one point or another: letting go of a time, a place, a person we love, but we need to accept that slowly killing ourselves by holding on will not bring the dead back to life.
Try as we might to resist it, Eurydice forces us to confront something most of us would rather forget: sometimes, it's better to just never look back.
To learn more about BU's Stage Troupe and its upcoming shows, visit: http://bustagetroupe.com.