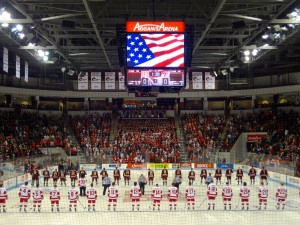 It was only 7:00 p.m. last Friday at Agganis Arena, and the venue was already a quarter full.
Music blared from the speakers as the rival hockey teams from Boston University and Boston College took to the ice to warm up for one of the biggest games of the season, The Battle of Comm Ave.
A buzz of excitement filled the air as people trickled into the arena. In the student section, cries of "GO BU!" were always quickly followed by "BC SUCKS!"
"We get the most amount of traffic, and the fans are always crazier," said one Agganis security guard about BU vs. BC games. "It's that rivalry. But I'm not that into these games," he added, "I'm just doing my job."
But for those in the student sections, the rivalry was serious. With a jumbotron announcement of "Let's play hockey!" the starters from each team skated onto the ice to cheers for BU and against BC. The pep band blared AC/DC and the game was underway.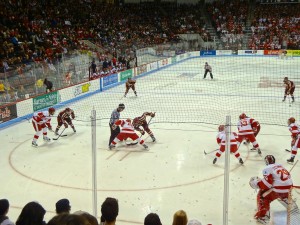 During the game, BU students kept up steady cheers. Every few minutes someone would start a chant of "Let's go, Terriers!" or "Sex-y goa-lie!" whenever sophomore goalie Matt O'Connor turned around to drink out of his water bottle. The ever-popular "F*ck em' up, f*ck em' up, BC SUCKS!" was also heard several times throughout the game.
When BU freshman Nick Roberto scored two minutes into the 2nd quarter, the student section went wild. "It's just pure energy," said sophomore Ben Coller (COM '16), looking at the people celebrating around him.
By the end of the second period, BU was down 3-1. But fans were still cheering for their team, no matter what. Students kept up chants of "GO BU! GO BU!" and cheered along to the pep band, adding a chant of "Jo-se Cuer-vo!" to the band's rendition of  "Tequila."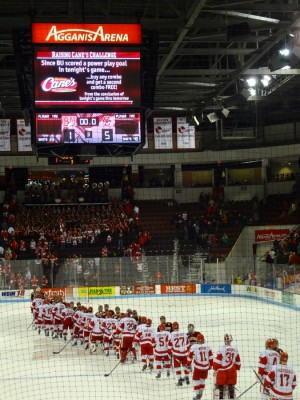 It wasn't until the third quarter that the student sections started quieting down. When BC scored its fourth goal at seven and a half minutes in, disappointed fans started leaving. After BC scored their fifth goal a minute later, one student left the game shaking his head, saying, "What the hell, man."
But still, "GO BU! GO BU!" was heard until the very end of the game.
Though BU lost 5-1, fans still had fun cheering for BU and hating on BC.
"It was still great," said Coller. "Everyone brings so much excitement to these games, no matter how many points we score."
The next home game is Sunday, November 17th against University of Connecticut. Students with sports passes can pick up their tickets at the Agganis ticket office starting this Tuesday.