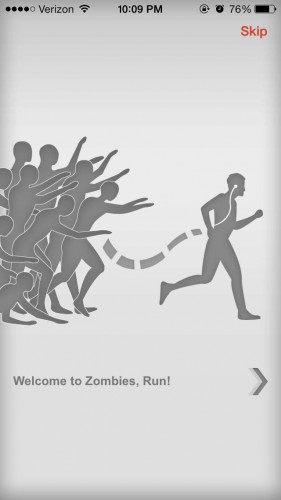 Let me just preface this by saying it was probably not wise of me to purchase this app in the first place, as I am a fan of neither video games nor exercise nor paying for apps. Zombies, Run!, a fitness app that tracks your runs, happens to combine all three of these things.
As it was first described to me, the Zombies, Run! app tracks your running, and when it decides it wants you to run faster, the sound of snarling zombies creeps into your headphones, behind your music, and forces you to run faster in order to outrun said zombies.
Despite the fact that I totally miss every point of this app's demographic, I decided to give Zombies, Run! a try. I reasoned that since I am a total wimp when it comes to anything even mildly scary, a little fear-based motivation would go a long way to jumpstart my workout. The sound of snarling, growling zombies creeping through my headphones would be exactly what I needed to make me push through any pain or tiredness, and I would go on to win a 5k or something, right?
Not exactly.
I realized as soon as I started running that this app was unfortunately not going to be the simple "hear zombies, run faster" scenario I had dreamed up in my head. Rather, the experience was very story-based, with the first five minutes of my jog on the Esplanade spent listening to two condescending British people chatting on a radio transmission about the impending zombie doom.
Condescending British Guy [to me]: "I'm just going to call you Runner #5, because honestly I can't remember your name." (Really? I paid $3.99 for this app and you're not even going to bother to learn my name? Rude.)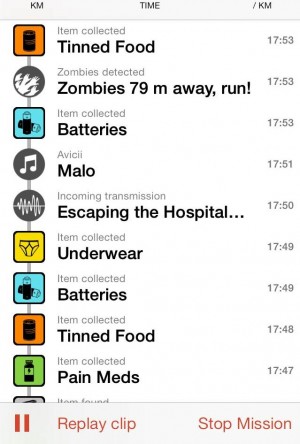 Seriously, though, as a non-runner, I'd much rather listen to distracting Kanye West music while I'm huffing and puffing than a fake story I'm not interested in, so the lengthiness of the Brits' conversation was frustrating.
Finally, the music cued up and I felt a sense of relief. Every 20 seconds or so, though, I would hear something totally unintelligible.
"Srurhk – chuur – zmburfff!"
What was that?! It sounds like a drowning robot. Are these the zombies I've been waiting for? Is the condescending guy having a stroke? What is going on? What is he saying? Why did I pay $4.00 for this?
The sound would stop briefly, and then would come back again several seconds later, still sounding like total nonsense. I finally looked down at my phone and realized that I had somehow been collecting random items–First Aid kits, trousers, crutches, etc.–and the drowning robot noise had probably been congratulating me or something. Oh. Maybe I would have realized this if I had listened to what the British people were saying, but I had tuned them out almost immediately. Oops.
I continued on my run, and the robot voice finally said something more clearly: "Warning, Zombies approaching."
Yes! I thought. Finally, this is what I signed up for. When I hear the zombie snarls and moans, I'll start sprinting!
The zombie noises never came, though. I heard a beep. No moans, no groans, no spooky noises: a beep. The beep became more frequent if I slowed down, signifying that the zombies were getting closer, but it was not hard at all for me to outrun the beep–all I had to do was increase my speed by 20 percent for one minute and I would be beep-free. My song finished, the Brits congratulated me on my performance, and that was it.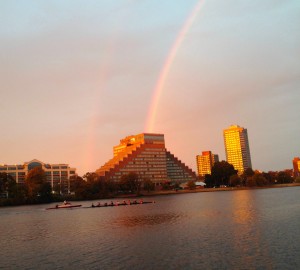 I felt totally cheated. Perhaps it was only this easy because I was on the first level, but I was expecting way more of a challenge, and way more of a zombie presence.
In the next round, I decided to see what would happen if I let the zombies get to me. Halfway through the next song, I decided to pull over and snap some pictures of the sunset and a double rainbow while I kept the app running. The GPS system knew that I was no longer moving, and when the robot announced that the zombies were approaching again, I let the beep get faster and faster until the zombies had supposedly overtaken me.
Nothing happened.
"You escaped the zombies!" my phone read.
Uh, no, I didn't. I was standing still, choosing an Instagram filter.
I had had enough of this non-zombie nonsense, so I shut off my phone and headed home.
Perhaps someone predisposed to actually like zombies and video games and physical activity would have more fun with this app than I did, but I was disappointed to say the least. If you do want to give it a try, though, please use my phone. I can't consciously encourage anyone else to actually drop money on this beeping, British, zombie-lacking zombie app.