Imagine it is late afternoon on a Wednesday, and you're a BU student passing by the GSU. You notice a large group of people standing in a circle surrounding a boombox blasting a beat, and one of these people in the circle appears to be rapping—freestyling, actually. They are making it up on the go—running away with their lyrical imaginations and taking the rest of the group with them.
Many BU students only catch a glimpse of this ever-growing group of enigmatic individuals before they keep on walking, not entirely sure of what they saw. Some stick around for a few minutes and still aren't sure of what they're seeing. Some stick around for good, and they become a part of the community. According to Blair Lineham, President of the Boston University Hip-Hop Club, their organization is, above all else, exactly that: a community.
"At the end of the day, we're a community, and our goal is to connect people through a shared passion of hip-hop," says Lineham, an SMG major concentrating in entrepreneurship and information systems. He recalls his own experience as a freshman who absolutely loved hip-hop, but didn't have anybody else on campus who could truly relate to that passion. "Now most of the friends that I have made have been through the club," he says. Lineham hopes that the BU Hip-Hop Club can serve as a place where those particularly isolated students can relate to others who have a similar love and passion for the medium.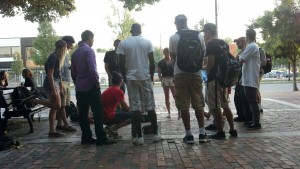 BU's Hip-Hop Club was formed by Lineham and several others, including Esteban Da Cruz, who now serves as the group's Vice President, and Guillermo Antonini, who served as the group's President up until his graduation in the spring of 2013. In late 2011, Antonini began organizing weekly meetings with a close-knit group of friends and some other students passionate about hip-hop. The group was driven by the absence of a strong hip-hop presence at BU, and they therefore made it their mission to instill that presence on campus themselves.
In early 2012, the group was officially made a club, and even over one year later, Lineham continues to echo the group's fundamental focus. "As long as hip-hop has a presence on the BU Campus, we are doing our job and we are happy."
After the club's official formation in early 2012, the growth of hip-hop's presence on campus can best be described as explosive. Cyphers, the freestyle-rapping circles that form every Wednesday afternoon at 5:00 pm in front of the GSU, quickly became a weekly phenomenon that initially grew out of a simple desire shared between Lineham and some of the group members to get some people together to freestyle. Jake Cox, a club member and former Student Manager at BU Central, played a major role in the explosion of hip-hop's presence of campus when he helped to bring many major artists in the hip-hop world to perform at BU Central, including Blue Scholars, Joey Badass, and Chance the Rapper.
The club has even been a place for young, up-and-coming hip-hop artists to express themselves amongst others who appreciate the form—Charmingly Ghetto and 2nd Nature, to name a couple.
Lineham hopes to expand the BU Hip-Hop Club beyond just the weekly cyphers, and in doing so, help the club to grow even larger and stronger than it already is. If there's one thing that Lineham is certain about, it is that the group is always looking to welcome new members to help the cause, which is ultimately to keep the presence of hip-hop on campus strong and fresh. "This is an initiative based organization. If anyone has a way of furthering our mission of bringing people together through hip-hop, jump in and let's do it."
BU Hip-Hop Club cyphers take place in front of the GSU on Wednesdays at 5:00 p.m.