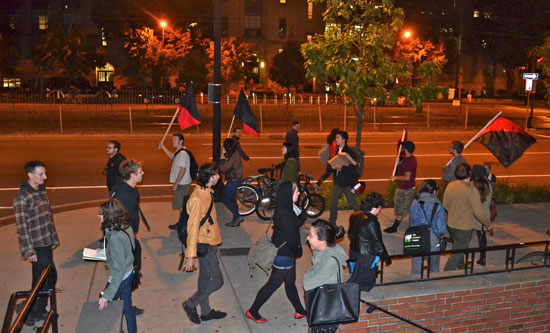 "Hey Insomnia, you've got the dough. Why do you pay your workers so low?
Hey Insomnia, you've got the cash. Why do you treat your workers like trash?"
Protesters gathered by Insomnia Cookies' Commonwealth Avenue location in opposition to the late-night cookie vendor's treatment of (mostly student) employees on Thursday evening to demand higher wages, health care, and the ability to unionize. Since four workers were fired last month, protests have been conducted daily in front of the chain's Harvard Square location. Carrying flags, signs, and fliers, students, former employees, and representatives of the International Workers of the World (IWW) Union marched in a ring in the shadow of Warren Towers.
Insomnia's business model is, in the abstract, appealing.  It's open until three in the morning, it's inexpensive, and warm cookies arrive swiftly to your door. But the realities of being an employee are not so sweet—the bike messengers who deliver the cookies in large purple carrying cases are paid five dollars an hour, plus fifty cents commission and often-negligible tips, while cashiers and bakers make nine dollars an hour. Massachusetts's minimum wage rate is eight dollars an hour, but according to the MIT Living Wage Project, the living wage rate is $12.65 for an adult without children in Boston.
Bike delivery staff face grueling shifts stretching from 5 p.m. to 3 a.m., regardless of weather, in a city where bicycle accidents are common. This is especially true on Massachusetts Avenue and Commonwealth Avenue, statistically the two most dangerous streets in Boston to ride a bicycle. One collision has already occurred.
The protest followed a gathering in BU's Center for Gender, Sexuality and Activism, including a discussion with former Insomnia delivery worker Jonathan Pena, who remembers working overtime without proper compensation and being required to cash in at four in the morning (a dangerous time to carry a large amount of cash).
The ring of marching protesters created a barrier across the pedestrian-heavy Commonwealth Avenue sidewalk. When customers entered or exited the franchise, some protesters shouted out to them—sometimes, the exclamations became heated. "You're making $8.50 an hour, asshole!" yelled one protester.
Working conditions like Insomnia's are not unique — countless service workers face unlivable wages and difficult working conditions. These Insomnia protests, rather, are symptomatic of the flawed system.
You can find out more about the Insomnia protests here, here, and here.