CORRECTION: This review is of a preview production of The Jungle Book
To the Huntington Theater from its producing partner in Chicago, the Goodman Theatre, comes Mary Zimmerman's musical adaptation of The Jungle Book. Based on the the stories of Rudyard Kipling and the popular animated film by Disney, the musical escapes the pitfall of being a rip-off of Broadway's The Lion King and is a show that is a sprightly fusion of the beloved but diverse works, plus some fresh reimagining.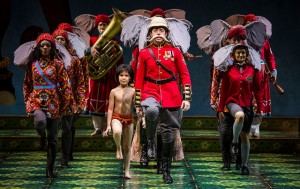 Zimmerman, the director and playwright of the adaptation, uses the musical outline of the animated Disney film for her stage adaptation, but details it with the cultural and artistic richness of the Indian setting. Zimmerman sought the "feel" of India, conducting research on the music, dance, animals, and textiles of the land. This is reflected in the production in ways such as the costume design of traditional Indian dress (with a twist) and half the orchestra featuring instruments like the sitar, which is what gives the music so much color and freshness.
But the adaptation also preserves what the audience already knows and loves about the work, most notably the music from Disney's version. The Jungle Book features beloved hits like "The Bare Necessities" and "I Wanna Be Like You," but also an original song that didn't make it past the cutting room floor: "Baloo's Blues." These songs are made ever the more lively by the production's half-jazz, half-Indian orchestra.
The ensemble performers are what really kicks these sing-along musical numbers into high gear, though (notwithstanding a solid, scatting-filled performance by André De Shield's of "I Wanna Be Like You"). With a motley mixture of puppetry, acrobatics, swing, tap, and Bharata Natyam dance thrown at them, the entertainers showcase their multiple talents with an exuberance that's contagious, particularly when the young actor depicting Mowgli is on stage.
Thus, The Jungle Book comes off as a fusion of the lightheartedness and jazzy flair of the Disney classic and the endearing affinity for India that Rudyard Kipling expressed about his birthplace through his stories (an aspect that is often down-played in other adaptations of the material). Though some viewers may express a tiny distaste with the production for keeping with a controversial song, as several audience members did after the show's conclusion, The Jungle Book is sure to delight audiences with a fun, thrilling, and exotic experience.
The Jungle Book runs through October 13 at The Boston University Theatre on Huntington Avenue. Rush tickets for BU students just $15. See huntingtontheatre.org for details.