According to tradition, the appropriate anniversary gift for a first year of marriage is paper. Many interpret that as money. Not comic cartoonists Shelli Paroline and Braden Lamb, however.
At their first marriage anniversary this past May 12th, the couple gave each other paper closer to their hearts: comics. In fact, they spent their anniversary in Toronto, Canada at the Toronto Comic Arts Festival, sharing comics with several thousands of fans.
"We're just going to walk around with comics and be like 'I got this for you!'" laughed Paroline during an interview before their anniversary. "I really thought this out."
It was a fitting way to celebrate their first year of marriage considering the two first met in a comic book store.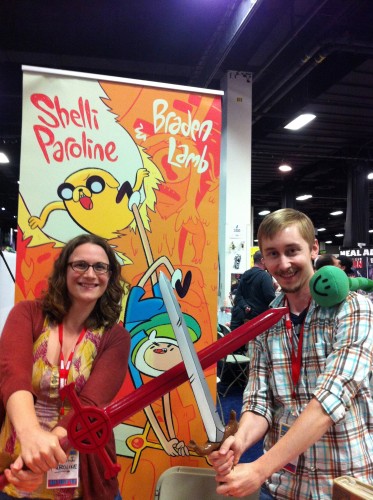 Paroline, 29, and Lamb, 32, are currently co-artists on the best-selling, Eisner and Harvey Award winning comic Adventure Time, which is based on the hit kids' cartoon show of the same name. The series is published by BOOM! Studios under their kids' kaBOOM! label, and most recently released its 19th issue under writer Ryan North.
Before the Adventure Time license had been signed onto the BOOM! Studios label, however, potential creative teams from all publishers had to pitch for it. Paroline and Lamb were one of those teams.
After the couple sent in a cover and several pages of sketches, they never expected to hear back in the way they did. The cover sample they sent in, the first Adventure Time piece they had ever drawn, was chosen as the first issue's cover.
"We find out one night and everyone's like, 'Congratulations on getting Adventure Time!' and we saw and didn't know they'd actually print that [cover]," said Paroline. "I wish we could do that cover over a million times, but whatever."
The couple continued to joke about changes they would make in hindsight and how their early work kept coming back to haunt them. In fact, a vampire queen by the name of Marcelline was the one doing the haunting.
"Marcelline was so hard for us," explained Paroline. "And we had like arguments about it, and we work pretty well together. I was just like, 'She looks like a man! What are we doing?!'" Marcelline's arm length and simple facial features were causes of some disputes.
Overall, however, working together has been extraordinarily smooth and has even given them an edge over other creative teams. The two create art digitally using a tablet, a touch-screen computer monitor, and high-caliber software to handle their work.
"It's a brilliant thing about working digitally, where you can kinda progress a little bit differently," explained Paroline. "We balance it out, and it really works well with a schedule too, we're just working that much faster."
The two alternate roles sketching, inking, and coloring their comics. Thanks to digital, they can pick up the other's slack when one of them gets busy.
"If you've got a design project you're working on, I can pick up some slack," said Lamb to Shelli, "or if I've got another project, then you can pick up some slack."
The two also take their work outside of their Watertown home.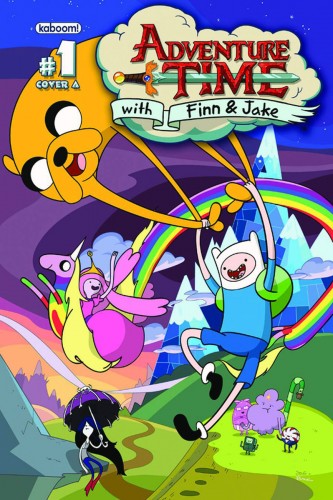 "We definitely go to diners and sit down and we're like, 'What is this princess going to look like?'" explained Paroline. Princesses are a major fixture in the mythical Land of Ooo, and the two have had fun contributing to the wacky mythos.
Their favorite princesses of their design? Truth-Field Projection Princess, Skateboard Princess, and Desert Princess (who curiously looks like dessert).
The part of contributing to the Adventure Time mythos that has been the most fun, however, has been their interaction with the fans who, according to them, are an even split between kids and adults. Often, the adults are the kids' parents.
"You have the kid who's really getting into cartoons and comics and they're dragging their parent into it," explained Paroline, "or you have this parent who loves comics but doesn't know how to introduce their kid, and Adventure Time is definitely a fit."
"We've heard from some parents saying their kids are learning to read from these comics," she continued.
Even the adults without children are passionate about the series. At a recent comic book signing, one gentleman asked for a sketch of an Adventure Time/Breaking Bad crossover.
"Yeah, I did Jake as Walter White and Finn as Jesse Pinkman, exclaiming 'scientific!'" said Lamb. "Scientific" being a spin on main characters Finn and Jake's catchphrase "mathematical!"
Ever since the two of them individually started drawing, they both seemed to know that they wanted to go in the direction of all-ages art. For Lamb, his first direction was toward "newspaper comic" style drawing.
"I really didn't want to do a real dark, gritty, mainstream kind of comics," said Lamb. "For a long time, when I was drawing, it was with an eye towards newspaper comics." He added that he's been drawing since he was two years old.
Paroline started to focus on art later during childhood. "It wasn't until I was like in middle school that I was so into cartoons that I started to draw. I don't think I ever sorta veered from wanting to draw comics and cartoons."
Since breaking into all-ages comics around four years ago, the couple have further developed their affection for the genre. The term "all-ages" is distinctly different from the kids' genre. It is intended to capture adults as well. "Kids' books" do not always accomplish that task.
When asked what makes the Adventure Time show and comic successful all-ages ventures, the couple pointed to accessibility and thematic maturity.
"I think it's definitely for the ability of families to read it together," said Paroline.
"The imagination is not being constrained by any kind of self-imposed limits, really," added Lamb. "I think with the occasional emotional maturity, it's often very emotionally smart."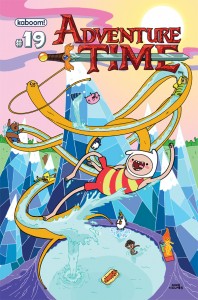 All-ages comics have gotten more popular over the past several years in comic book stores.
According to Diamond Distributer's July 2013's sales figures, the Adventure Time franchise alone sold over 64,000 comics to retailers, at roughly 21,000 copies per series (Adventure Time, Adventure Time with Fionna and Cake, and Adventure Time: Candy Capers). Other all-ages series, like Batman: Lil' Gotham and the My Little Pony franchise comics, sell between 20,000-35,000 comics a month. In July 2008, the highest charting all-ages comic was Marvel Adventures: Super Heroes #1, which sold just shy of 12,000 copies.
In a separate interview, writer Justin Aclin of Dark Horse Comics' all-ages Star Wars graphic novellas added to Paroline and Lamb's assessment of the all-ages genre in talking about a conversation with his editor.
"My editor, one of the first things he said to me was 'Don't worry about it being a story for kids. Make the best Star Wars story you can. And don't have any graphic dismemberment and you should be fine,'" explained Aclin.
"There's a stigma on "all-ages" now as being just for kids," he said. "There's a lot of really great all-ages books over the past several years that adults can enjoy as well. It would be great if comic book fans could get beyond that."
Luckily, many fans do, including apparent fans on the nomination's panel for the prestigious Will Eisner Comic Industry Awards and the industry professionals who vote for the Harvey Awards.
For the 2013 Eisner Awards, Adventure Time was nominated for Best New Series, Best Publication for Kids (ages 8-12), and Best Humor Publication. For the 2013 Harvey Awards, it was nominated for Best New Series and Best Original Graphic Publication for Younger Readers.
Paroline and Lamb were both stunned.
"I did not expect to get nominated, so it was really cool," said Paroline before either show happened. "I think we're going to have a nice loser's sweep through that, but it's nice to get nominated."
The two were quick to shift accolades onto the shoulders of Ryan North, the Adventure Time comic's writer.
"Yeah, we're totally going to let Ryan keep any awards the comic wins," added Lamb.
Fortunately, their doubts were unfounded. Adventure Time won Best Publication for Kids (ages 8-12) at the Eisners and Best Original Graphic Publication for Younger Readers at the Harveys.
"It was exciting to be in the guest section this year," explained Lamb, "and a huge thrill to then go up on stage and look at the room from the other direction."
"Making comics is fun in its own right, so it's wonderful to receive recognition for our work," he continued. "All the nominees in the "Best Comic for Kids" category were great, so it was an honor to be in their company, let alone win the award."