The author viewed Monsters University in 2D at a special advanced screening put on by Walt Disney Pictures on April 23. This review is based on the cut that was presented during that screening. Pixar Animation Studios stated that the film may be further edited before its theatrical release on June 21.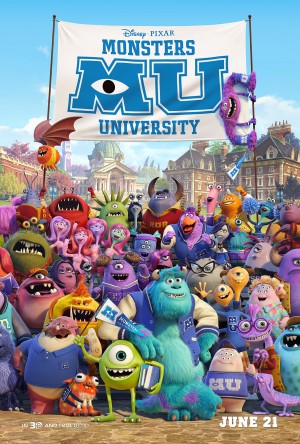 In this prequel to the hit Monsters, Inc., Pixar takes us back in time to view best friends Mike Wazowski and James P. Sullivan (better known as Sulley) before they became the top duo at the scaring factory. On the campus of Monsters University, we see how Mike and Sully first met, and find that during their college days they weren't best friends but actually rivals. Monsters University recounts how a grand college competition forged the friendship between the unlikely pair.
Like Disney/Pixar's plethora of other great films, Monsters University is a wildly enjoyable film for all ages. The subtle factor that distinguishes Monsters University from its brethren is its naturalism, which makes the cute monster world just the tad bit more believable. Part of this should be attributed to the talent of MU's voice actors.
In addition to Billy Crystal, John Goodman, and Steve Buscemi, reprising their roles from Monsters, Inc.,  the cast features a cavalcade of prominent acting and comedic talent. Voicing new characters are Nathan Fillion, Charlie Day, Aubrey Plaza, Bobby Moynihan, John Krasinski, screen legend Helen Mirren, and more. Although some of the insignificant characters don't merit the big-name castings, the cohesion between the cast overrides any possible negative aspect. The blooming relationship between Mike and Sully, the bro-ness amongst the antagonistic Roar Omega Roar fraternity members, and the sibling bickering between Terry Perry and Terri Perry (conjoined two-headed monsters) is so natural you forget they are cartoon monsters and not people you have encountered before. This is writer-director Dan Scanlon's real achievement with the film. Most animated movies nowadays have star-studded casts, but Scanlon focuses on capturing the performance, not merely the recognizable speech. With these great vocal performances, Scanlon creates believable new characters and further develops the characters we already know and love, to make a film that toys with the audience's expectations and lovingly pulls on their heartstrings.
The naturalism of the characters is further enhanced by Pixar's ever-bettering visuals.  For example, to correspond with their college days, Mike and Sulley have been given a more youthful appearance: Sulley is less shaggy, Mike's horns aren't as grown, etc. With such detailed, high-definition, 3D animation, Pixar continues to thin the line separating the live-action world from the animated one. One memorable shot is a close-up on a shiny brass Scarer trophy, reflecting the longing gaze of Mike Wazowski's cycloptic eye. It is moments like that which engross the viewer into this virtual world that looks so fanciful but feels so real.
Recovering from its sequel misstep with Cars 2, Pixar's Monsters University is just as good as its predecessor, if not slightly better. And the college-aged viewers will especially like MU because of its campus setting and jokes about college life, as well as its connection to the original Pixar film they grew up on. Once again, Disney/Pixar delivers another great, magical film that reminds us why we love going to the movies.