At Senior Breakfast on Friday, President Brown named Wendy Kopp, Founder and Chair of the Board of the national teaching corps Teach For America, as BU's 2013 commencement speaker.
"I wanted to have someone as Commencement speaker who's made a huge, huge impact on the world, and she did it coming out as an undergraduate," Brown said, as reported by BU Today.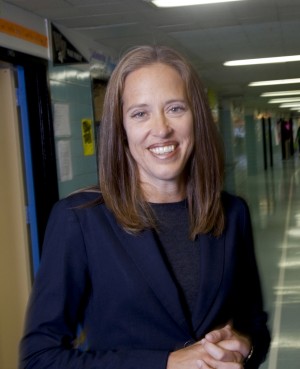 In 1990, Kopp founded the non-profit Teach For America after graduating from Princeton University to fulfill the dream that "one day, all children in this nation will have the opportunity to attain an excellent education." In this program, exemplary recent college graduates commit to a two-year teaching stint in America's impoverished and low-performing inner-city and rural schools in an effort to address educational inequality. For 23 years Kopp presided as CEO of Teach For America, growing the organization from its initial 500 corps-members to today's 10,000 participants and 28,000 alumni, and serving over 3 million students in some of the nation's neediest schools.
In 2007, Kopp expanded Teach For America's educational mission to a global scale in another venture she co-founded called Teach For All. As the organization's website states, "Teach For All is a global network of independent social enterprises that are working to expand educational opportunity in their nations by enlisting their most prominent future leaders in the effort. We aspire to the vision that one day, all children will have the opportunity to attain an excellent education."
She has authored two books chronicling her experiences: One Day, All Children: The Unlikely Triumph of Teach For America and What I Learned Along the Way (2003) and A Chance To Make History: What Works and What Doesn't in Providing an Excellent Education For All (2011).
For her efforts and contributions, Kopp will also be presented with an honorary Doctor of Humane Letters degree  from the university.
Kopp commented on the announcement on her Twitter account:
[blackbirdpie url="https://twitter.com/wendykopp/status/330343527525527553″]
After learning of the news that Wendy Kopp was named Commencement speaker, Future Teach For America corps member Kiera Vinson (CAS '13) was anticipative. "I think Wendy Kopp has the potential to be a great speaker. Being that I will be moving immediately after graduation to start my time with TFA, I hope she has wise words about education and its power."
Hopefully Kopp conveys a message to the graduating seniors that inspires them to make an attempt to better our nation and the world, as she has done herself.
Wendy Kopp will deliver her address to the Class of 2013 during Commencement on Sunday, May 19, at Nickerson Field.