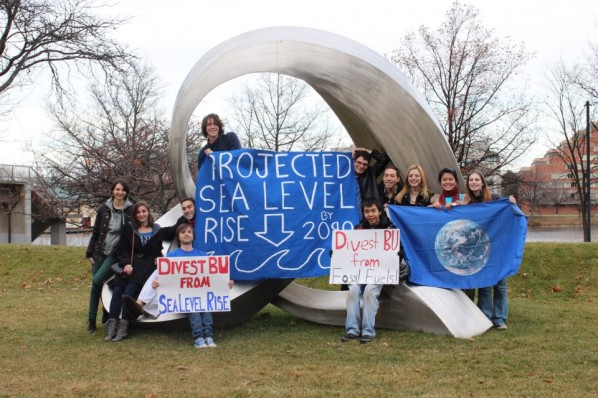 Ben Thompson views climate change as a slow apocalypse. The issue is dire enough to the soft-spoken math grad student that he's travelled across the country to express his support for other environmental groups participating in protests, sit-ins and dramatic demonstrations.
Behind his passion is the belief that it only takes a simple understanding of climate change for people to realize the potential for disaster and take action. Even if his actions only get people thinking and talking, they're worth it.
"To start the conversation is so much more than symbolic," he said, "it's strategic, and it's life or death."
So, when he got to Boston University last September, he started Divest BU as a way to spark conversations and get students thinking about climate change. The group's ultimate goal is for these conversations to get students to push BU administrators into retracting the university's fossil fuel investments.
But the first year hasn't been easy for Thompson and Divest BU. Not being a part of the undergraduate community made it difficult for Thompson to start a movement oriented so heavily toward getting people involved.
When Thompson first started the group in September, it sent a letter to President Robert Brown directly requesting the administration to divest from fossil fuels, but President Brown declined.
"The world does not yet have viable technological and political alternatives to fossil fuels to meet its energy demands," he wrote in his response. "I believe that the best near-term solution is to work with fossil fuel producers to mitigate, to the extent feasible, the release of greenhouse gases."
In his letter, President Brown said the decision would be considered more extensively by an Advisory Committee on Socially Responsible Investing put together by the Board of Trustees, which was still in the works at the time of his response.
Although President Brown rejected the group's request for divestment, his response only emphasized Thompson's belief that divestment will not come from aggressive lobbying.
"[Administrators] are not going to divest because we make rational or moral appeals to them," said Thompson. "They're going to divest because the student body demands it."
In that regard, Divest BU is starting to make progress, and Thompson is optimistic for the future. He said the group has seen other encouraging signs. All year long, its members have been collecting signatures for a petition to divest, and Thompson said they're "creeping closer" to the 1,000 signature goal.
At an April 9 meeting of BU's student government, Colby Smith, another member of Divest BU asked for Student Government's support of its cause. Three weeks later, the government voted unanimously in support of divestment.
In addition, Thompson's spending the summer working on a faculty letter to present to the administration at the beginning of next semester, by which time the Board of Trustees' new investment committee should be up and running.
"I think we're in a really good position to start next year," Thompson said.