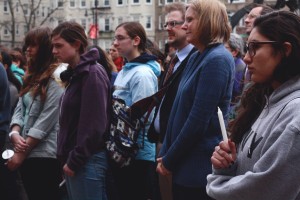 The atmosphere was somber at Tuesday evening's vigil held in honor of the victims of the Boston Marathon bombings.
The event took place in Marsh Plaza at 5:30 p.m. and was attended by approximately 200 students, faculty, and community members. Originally scheduled for 8:00 p.m. on the night of April 15, the vigil was postponed due to safety concerns.
Dean of Marsh Chapel Robert Hill's brief opening remarks competed with gusts of wind that whipped about clothing and technical equipment. Speeches followed the dean's introduction, delivered by BU Hillel Rabbi Michael Beyo, BU student body President Emeritus Dexter McCoy, and BU chaplain Father John Mclaughlin. Each offered consolation and perspective in the wake of Monday's tragedy.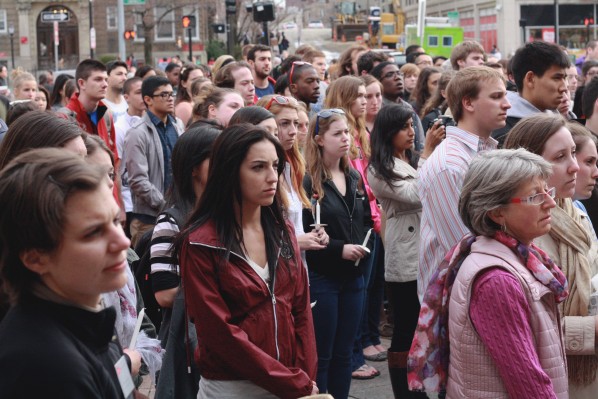 BU Hillel Rabbi Michael Beyo was the first to take the podium.
"Life," the Rabbi boomed over the wind, "is stronger than any death. The only way to move forward is to embrace each other as friends, as a family, to unite ourselves, and to grieve."
The Rabbi went on to remind the crowd to "live and enjoy [their] life," and to "[not] be afraid." The Rabbi concluded by reiterating this thought with a quote from Psalm 121.
Dexter McCoy took the podium second to deliver a short and spirited speech lauding the importance of community in times of crisis.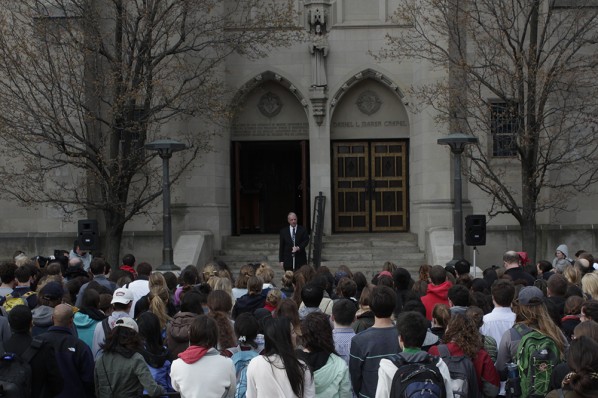 "This act of terror," he shouted, "was meant to steal our joy…to drive us apart in fear! And to them, we must say NO! This is our community. This is our Boston, and no one, no one, can take that away from us."
Father John McLaughlin followed McCoy, delivering his words of consolation in the form of a prayer. He centered on the idea that "good overcomes all things."
Dean Hill then returned to the podium to offer some concluding thoughts.
"We must find a way to live with faith and courage," urged the Dean, "and to bring a little bit of light into the world around us and to make the world a better place."
The speeches were followed by some music played over speakers set up around the Plaza. While the song played, candles that had been passed by Chapel volunteers were lit and subsequently blown out by the wind. Students milled around with their unlit candles and quietly discussed yesterday's events.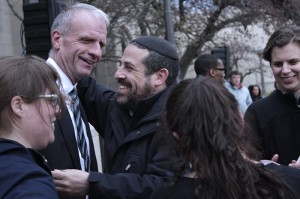 "I'm still in shock. I want to believe that it didn't really happen…that it's not real," said student Stephen Figueroa (CAS '16).
"All of Boston is in shock," agreed Jun Heekim (CAS '13).
Matthew Craig (SED '12), remarked that he "felt vulnerable and violated," and that he, "can't comprehend what has happened yet."
When the music subsided, Dean Hill thanked the attendees, and the crowd slowly dispersed.
"But," Craig said before walking away with a group of friends, "you also just gotta keep living."
For information on BU's grief counseling options, please contact the BU Heath and Wellness Center. Contributions to aid victims of the Marathon explosions can be made through the Red Cross disaster fund.