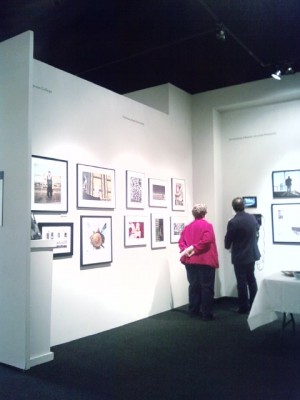 Boston University students who frequent the west end of campus walk by  The Photographic Resource Center everyday. Tucked into a small storefront on the same block as a tanning salon and a credit union, and advertised by a cheery green sign across the top of the building, the PRC isn't too flashy. The large front window shows a modern lobby area with a small reception desk in the corner. Enter, and to the left is a bulletin board advertising all sorts of art shows. Walk straight through a small hallway and the beautiful gallery  comes fully into view.
The PRC is one of four art galleries on the Charles River Campus. It is an independent non-profit organization that promotes photography and graphic art.
Erin Yukaitis, Program and Exhibition Manager, said the center began in an apartment in 1976 and grew from there.
"Our mission is to celebrate, interpret and promote the practice of photography in all its forms through a variety of ways," she said.
Those ways include a variety of educational programming, including portfolio reviews, workshops, lectures, a journal called Loupe, and an event series called Nights at the PRC.
Speakers at these events have included names such as iconic American photographer Ansel Adams, photography historian Vicki Goldberg, and photography expert Henry Horenstein. On April 21, the PRC will partner with the Photo Historical Society of New England to host Abe Morell, who's work has been featured in museums including Boston's Museum of Fine Art and Metropolitan Art Museum in New York.
These events are free for members and open to the general public, sometimes for a fee. Yukaitis explained that all BU students are considered members of the PRC and encouraged them to take advantage of these offers.
"We're still a best kept secret somehow, particularly among students," she said.
Yuskaitis then explained that one of the biggest events is the annual Student Exhibition, where the PRC accepts submissions from member schools, and then designs a show with those works. This is the only show that displays student works, and it usually draws a crowd of about 300 people.
On Thursday night, the PRC opened the 2013 Student Exhibition. The opening reception drew such a big crowd that people had to wait outside when the building reached maximum capacity.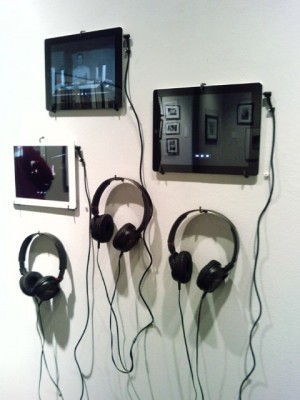 This year's event showcased work by students from 18 different schools throughout New England. The PRC worked with former head of the Photography Department at Northeastern University Neil Rantoul to award six works special distinction: an Image Award, a Best in Show, and four honorable mentions, all denoted by a plaque on the wall next to the work.
According to Yukaitis, this is the first time the PRC has judged the works.
"We decided to jury the show this year," she said. "We did this to recognize those students [who won] and thank our sponsors."
This year's Student Exhibition runs from Thursday until May 4.
Brenna Kalicki, a junior at Emmanuel College, is one of the students featured in this year's show. She said she was excited to have her work showcased in a professional gallery.
"This is the first time my work has been displayed outside of my campus, so I'm anxious and eager to hear and see the viewers response," she said.
Kalicki's project is a series of photos, but only one can be displayed in the PRC. Final selection was determined by the school, and Kalicki didn't even know which photograph was on display until she walked into the reception. Kalicki explained that a lot of work goes into creating submissions for the exhibition.
"I personally think a lot of hard work, time and patience because you have to be sincerely proud of what you're submitting," she said.  "I've been working on my project since the beginning of the semester and my project is really important to me because it shows my personal growth within the subject and within my photography."
The PRC is located at 832 Commonwealth Avenue and offers a variety of resources, including an internship program. For more information on programming you can visit the website.