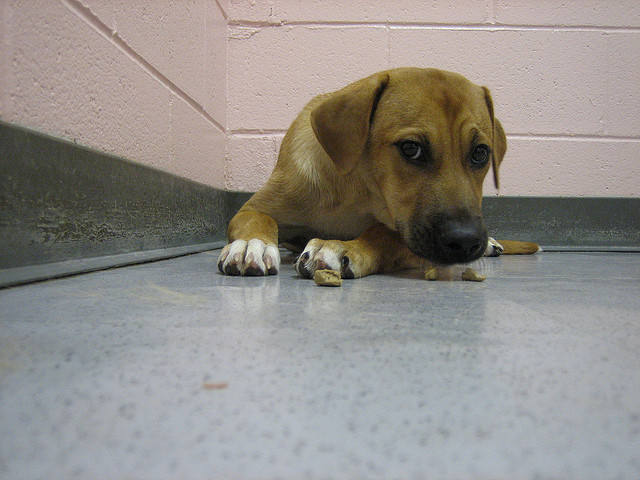 PETA kills.
Sounds like an oxymoron, doesn't it? However, that is the crime of which Nathan Winograd is accusing the organization in a recent Huffington Post contribution. Winograd, director of the No-Kill Advocacy Center, claimed in the viral article that PETA (People for the Ethical Treatment of Animals) has killed an upwards of 30,000 domestic animals such as dogs, cat, and rabbits, in the last 11 years. 

Winograd took readers through the process of such slaughter, emphasizing that the facilities for euthanasia and storage are all financed through animal-lover donations, condemning the organization for lack of disclosure to the public on its euthanasia stance. More strikingly, Winograd claimed that PETA euthanizes animals that are perfectly healthy.
"While claiming to be an animal rights organization, PETA does not believe animals have a right to live," wrote Winograd. "Instead, it believes that people have a right to kill them, as long as the killing is done 'humanely,' which PETA interprets to mean poisoning them with an overdose of barbiturates, even if the animals are not suffering."
The article, which surprised several PETA supporters and members of the public alike, opens up a debate on animal rights and no-kill shelters versus ones that do euthanize.
PETA responded to Winograd's "deliberately inaccurate" accusations in the International Business Times, admitting that it does keep a "last resort" animal shelter at their Norfolk, VA headquarters. It refuted Winograd's claim that it kills healthy animals, saying it only euthanizes animals that are too unhealthy or dangerous to put in homes.
"Contrary to what 'no-kill' advocates would like everyone to believe, there is a huge crisis of homeless animals with nowhere to go, and until people adopt instead of buy, and spay or neuter instead of breed, euthanasia is unavoidable," said PETA Vice President Daphna Nachminovitch.
In fact, PETA is openly critical of no-kill shelters because they tend to turn most animals away due to overcapacity. The group has compiled a video exhibiting the problems with no-kill shelters and has actively pushed for mandatory spay-and-neuter legislation.
Rachel Atcheson (CAS '13) reacted to Winograd's article, siding with PETA on the issue on animal shelters.
"I do not personally like the killing of animals, but I would rather have them be euthanized than spend the rest of their lives in misery in a shelter where they will never be adopted," said Atchenson. "The animal rights movement should not be about 'purity,' it should be about doing the best you can do– and if a group knows they can't find homes for some animals, then I think what they're doing is called 'mercy killing.'"
While PETA refuted Winograd's statements about the slaughter of healthy pets, Atchenson sees some justification in the matter, but rather supports better efforts towards spay and neuter legislation to help curb overcrowding instead of euthanasia.
"I think it's justified to kill a healthy animal if they are going to have a future of living in a cage for the rest of their lives," said Atchenson. "I definitely think that in many ways we're not working hard enough to make sure that all animals are spayed [or] neutered–and in that sense it's not justified to be killing perfectly healthy animals."
Have a strong stance on animal rights or no-kill versus kill shelters? Submit a comment and join the debate! Interested on hearing more about animal rights? Philosopher and "Animal Liberation" advocate Peter Singer will be on campus on April 26 to share his perspective. Details here.