Friday afternoon, comedian Demetri Martin stopped by the BU bookstore to promote his recently released book, Point Your Face at This. However, in typical Demetri Martin fashion, he took an unconventional approach to such a conventional event.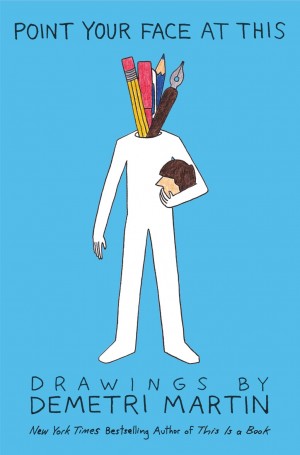 Martin didn't perform a book reading to the packed crowd on Barnes & Noble's top floor , as was planned. This was because he felt reading a book aloud would have been boring. And with Point Your Face at This being a book of drawings, he also felt reading would be rather difficult. The audience was not disappointed, though, because Martin took a few minutes to explain the creative process behind the making of his second book, instead.
He explained how Point Your Face at This was not a part of his original book deal, which was for a follow-up to his New York Times bestselling This is A Book. Martin spoke of how he managed to convince the publisher to print selections of doodles from his personal notebooks in another publication between the two books.
"Left to my own devices, this is what I would do anyway with my time," said Martin. But after he got approval and took a second look at his notebooks' sketches, he says he believed that his drawings were sub-par.
Martin then allowed the rest of the event's time to be used for audience Q&A. People asked questions about his other shows, his former jobs, his relationships with other comedians, and his interest in law and politics. As it turns out, Martin was a White House intern during the Clinton Administration, but he eventually decided to forego the political arena and pursue comedy instead. Martin talked about his experience as a writer for Conan O'Brien (acquired after a very competitive hiring process), which he quit after a year so he could focus more on stand-up. Martin also worked on The Daily Show before becoming the comedy icon he is today.
During the Q&A, Martin gave advice to aspiring comedians, acknowledging that he improvises a lot more than he used to, due to the changing landscape of comedy presentation as the culture of "instant news" affects it.
After the Q&A, Martin proceeded to sign copies of his books and pose for photographs with fans.
Demetri Martin's Point Your Face at This is available for purchase now.