During a staff meeting several weeks ago, one of the writers (Naomi Spungen) told The Quad about a new subreddit called  explainlikeIAmA. In it, you are able to chose a subject matter and explain it to a person or thing, in a way for which they will understand. The following piece is based off this reddit, in which the subject matter and explanation recipient will switch places. The subjects for today: rapper Nicki Minaj and Nobel Prize winner Toni Morrison. 
Explaining Nicki Minaj to Toni Morrison
First off, Mrs. Morrison, after researching you and reading up on you, I am impressed. I have truly enjoyed your work. More to the point, allow me to now tell you a story—the story of a young Afro-Caribbean American woman who has gained the attention of the country, for better or worst. This is Nicki Minaj.
Born Onika Tanya Manaj, in either 1982 or 1984 (there is a lot of discrepancy), Ms. Minaj is from the island nation of Trinidad and Tobago. After living there for several years, Minaj and her family moved to New York City, settling in the borough of Queens.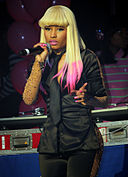 Fellow rapper Lil Wayne would discover Minaj in 2009, signing her to his vanity label Young Money. This was after years of hard work releasing locally distributed albums, or mixtapes. From there, Minaj quickly used her linguistically talented mind to rise through the ranks of rap's elite, with features on songs like Kanye West's 2010 "Monster," where she rhymed, "Forget Barbie, fuck Nicki cause she's fake/She's on a diet but her pockets eating cheesecake." The release of her 2010 debut Pink Friday gained her critical acclaim and a multitude of fans worldwide. In 2012, she released her second album Pink Friday: Roman Reloaded, which was not as acclaimed but was well received for its poppy and contemporary sound.
Minaj is a polarizing figure in the eyes of the public because of not only her lyrical content, but also her diverging public personality. She is known for her alter egos, including "Roman Zolanski," for which she uses a British accent to channel. There are her outlandish costumes, complete with wigs, to trump up her image of being a Barbie. In addition, there was her wishy-washy stance on being bisexual. This is all in the effort of her being a part of the commercial machine—endorsements with companies like Pepsi and MAC Cosmetics have come with her fame.
Still, though she has become a role model for many young black girls around the world. She is seen as a successful young black woman or as a figure of controversy and scandal. Both allow her to infiltrate the minds of the masses to deliver a message, but again–she's hard to predict. Who knows what that message will be.
Explaining Toni Morrison to Nicki Minaj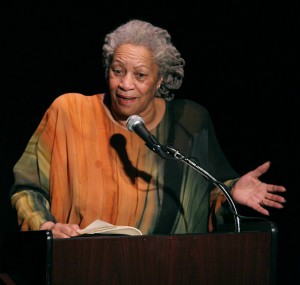 Nicki, how do I explain Toni Morrison to you? There are a myriad of ways. Think about her like this—she's better than you.
Now, I know this will throw you for a loop, but then again she just is. I mean, do you have a Nobel Prize or Pulitzer Prize? No? Well then, this is getting easy.
In one song, "Stupid Hoe," you berate rival Lil Kim for an entire song, in which you constantly call her a stupid hoe, a monkey and other disparaging words. Morrison wouldn't be in favor of this stance again Kim for several reasons. For one, the use of the word "monkey" to describe another African American is disrespectful on levels other than just comparing her to an animal. This is a woman who lived through the Civil Rights Era?
Also, remember, she set the standard for Bill Clinton being this country's first black president. We all know you voted for Romney, so we know the two of you wouldn't agree on political opinions.
Morrison has degrees on top of degrees. She has been educated at Howard and Cornell and taught at Yale and Bard. She is considered one of the best African American writers for her depth of subject, some of which is autobiographical.
In other words, she's the shit. She really is. Morrison is a brilliant artist with a pen, but not the same pen as you, Ms. Minaj. Or am I talking with Roman? Either way, Morrison set a standard, which others are trying to achieve. Like yourself—you are considered the top in your field. Other female MCs are trying to achieve the peaks which you have set. They are trying to poke holes at your crown, but I digress.
Remember how this started with Morrison being better than you? Well, that's a challenge. Try to reach her crown, now.