Sheets of snow fell fast and hard onto Boston's wide avenues and crooked alleyways last night, accumulating quickly and wetly as the sky grew dark. Many students, since classes were cancelled for the day, huddled in their rooms for most of the afternoon, catching up on homework, relishing a movie marathon, or starting, er, the weekend early. One behemoth loomed over it all: a Facebook event, growing larger in attendees every moment, beckoning brave souls to venture into the white, armed to the teeth with frigid projectiles–to fight. 
The Bay State SnowBrawl fight started as a small Facebook event created by Henry Huang (ENG '13) on Wednesday, February 6, set to occur Friday night at 10 p.m., a classic snowball fight to begin in the Bay State-Marsh Plaza area, open to all. Spirited posts rallied potential brawlers to action, even pitting those on each side of the street against one another as "odds" and "evens."
What resulted was a snow-battle of epic proportions fought on the Esplanade abutting Bay State. Hundreds, perhaps even more students trekked through the biting winds and thick snowfall to compete in an icy trial of will and strength from approximately 9 to 10:30 p.m., until BUPD intervened and broke up the action. One anonymous student was arrested.
As the week wore on after Huang created the event, news outlets reported that the storm was to be a large and even potentially historic one, comparing it to the Blizzard of '78. BU announced that all of Friday's classes were cancelled on Thursday evening at 7:30 p.m., and the Massachusetts
government issued a state-wide driving ban after 4 p.m., violation of which is punishable by up to a $500 fine and possibly even incarceration.
Of course, this wasn't going to stop the brawl.
By Friday evening, it was clear that the potential snow-battle might be bigger than expected. The attendance of the Facebook event skyrocketed up into the hundreds, and then into the thousands. Around 6 p.m., the event's creator changed the location of the fight to the Esplanade in response to warnings from BUPD as the list of attendees continued to grow. By nine p.m., the page read that 2,202 were attending. Meanwhile, the snow continued to fall (or, more accurately, rocket) onto increasingly blanketed streets, building up to the double digits in inches.
This did not not stop the brawlers.They ventured out by the hundreds in North Faces, in tights under leggings under jeans, in heavy boots and fuzzy hats. Some came out in teams, sporting face paint, cardboard shields, and headlamps. One brash soul even donned a plastic cow mask, transforming into a snowball-heaving minotaur. Very quickly the fight became militaristic. Coordinated volleys of bright white lumps rained from the sky. Students speedily constructed strategic forts, which were equally speedily destroyed in rapid succession. Walls of fighters, armed with massive hunks of ice and snow, ran screaming headlong into one another, producing cinematic clashes and, yes, many fallen comrades.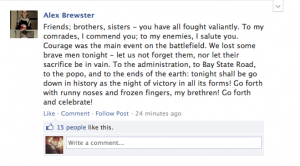 At 10:30, BUPD broke up the action in order to preserve the students' safety. They were met with some resistance and even arrested one student, but before long, the crowds dissipated. Frozen and exhilarated brawlers left the Esplanade, heading back to dorms and apartments for the welcome of hot cocoa and a toasty radiator. The snow continued to fall, increasing in intensity, projected to become even heavier as the night wore on.
No one anticipated the magnitude of the fight, or the spirit with which the Terriers fought it. The snow may melt away (for all we know, it could be 60 degrees out next week, after all), but it's safe to say that the Esplanade SnowBrawl of 2013 will live on in students' memories forever.