On Monday, Boston Ballet revisited Tsai Performance Center for Dance Spotlight: An Evening with Boston Ballet, an annual showcase from the Howard Gotleib Archival Research Center featuring live performances from the repertory ballet company.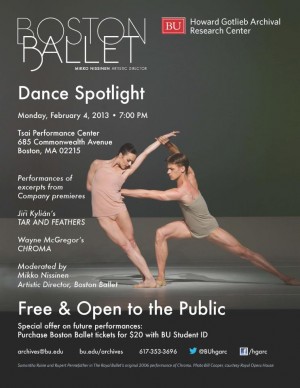 Working in conjunction with the ballet company and their "dedication to dance education and providing access to Boston Ballet for students," as Boston Ballet Director of Public Relations and Social Media Deborah Moe said it, the center demonstrated that it is not merely an archivist but also a cultural producer, through its Student Enrichment Series.
Boston Ballet Artistic Director Mikko Nissinen moderated the night's event, providing commentary and interviews in between the excerpts from Jiri Kylián's Tar and Feathers and Wayne McGregor's Chroma, examples of the company's Spring programming.
The performances are intense and full of images. According to Nissinen, the dance works are about life in its extremes.
"It's beautiful to watch, really mezmerizing" said Nissinen on Tar and Feathers. "It is truly a journey."
But these performances are not like the typical ballet one would expect to see in such familiar works as Swan Lake or The Nutcracker. The contemporary ballets are unorthodox and experimental, with animal roars, wild facial expressions, skirts made of bubblewrap, readings of Samuel Beckett poetry, an elevated, moving piano line, and music ranging from Mozart to improvised piano to orchestrated Jack White.
Vita Paladino, director of the Howard Gotleib Archival Research Center, assured the audience in a concluding statement that "it's really worth the investment to see this company."
Seemingly persuaded, audience members flocked to take advantage of the special $20 rush ticket offering, available only for the night's attendees.
"I bought tickets because I had seen ads before about the contemporary show and was intrigued, and the showcase made me more so," said Katie Keefe (CAS '15).
Get your tickets too, and allow Boston Ballet to take you on the wondrous, unfamiliar journey that contemporary ballet brings.
Boston Ballet presents All Kylián March 7-17 and Chroma May 2-12, at The Boston Opera House. Tickets available at BostonBallet.org