Right up there with pastel-hue hair and winged eyeliner, Doc Marten boots have become a staple of this season's trendiest looks. Mind you, I'm not the fashion blogger here at The Quad, but style expertise isn't necessary to speak definitely of their popularity — just look at the ground. If you don't already have on a pair of 1460s, then chances are that someone in the vicinity does. I'm wearing mine as I sit here typing this.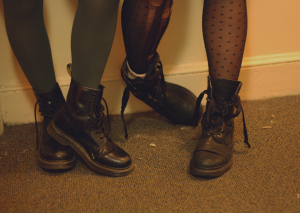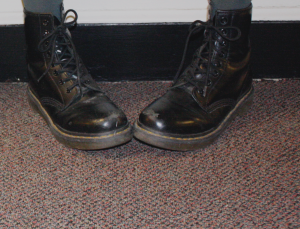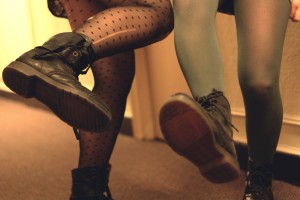 And why not? If you're willing and able to cough up that $120 (or if you're extremely lucky and willing to deal with vintage foot-sweat and thrift a pair), then you've got yourself a pair of sturdy boots that can be worn with essentially anything, in any weather. The "default" 1460 style boot is oil, fat, acid, petrol, and alkali resistant, so don't loose sleep over those awful alkali stains! They've also got a nifty lifetime guarantee.
Most importantly, though, they make you look like a badass (seriously, have you seen me?). Reminiscent of the late 1970s/early 1980s New Wave and Punk music scenes, these boots are historically affiliated with counter-culture and cutting-edge style. Many Punk icons of the 70s including Peter Townshend of The Who and Sid Vicious of The Sex Pistols had been known for wearing the iconic 8-eye boots. Since, the trend has been re-adopted with the late 70s Glam Rockers, 80s Goths, and — moving on into the 90s — the grunge scene (check out this picture of Kurt Cobain wear his pair — at least, that's what Doc Martens company claims he has on their new ad campaign).  Now, of course, they're more-or-less mainstream amongst we stylish young people.
With such a strong cultural tie and physically imposing design, it's no wonder the boots have always cultivated for their wearer a sort of "insta-tough". But there's more to it. Regrettably, Doc Martens is a company that has also been burdened with a long-time affiliation with Nazism. Klaus Märtens, the first maker of what would one day be Doc Marten boots, was, indeed, a doctor — for the Wehrmacht, during World War II. Märtens injured his foot skiing, and subsequently finding the standard-issue boots uncomfortable, fashioned his own. After the war, he and an affiliate opened a shoe-making factory in Seehaupt and Munich. Production was moved to England in the late 1960s.
It was there, about ten years after the move, that the boots truly began to gain popularity. Remember, they were adopted first by the British Punk scene, which is why most people today immediately associate them with "brit-cool". Punk aesthetic included (and continues to include, to an extent), Nazi iconography (why this is begs for a post in itself but this guy's blog offers a pretty decent explanation). The historical relation to Nazism also inspired, unsurprisingly, some neo-Nazi or "skinhead" groups to don the shoes throughout the latter part of the 20th century.
There is no reason to believe, however, that Doc Martens today signify any sort of affiliation or sympathy with Nazism. The boots are so commonplace that any previous political statement a person could make by wearing them is impossible. Even Doc Martens company seems to have severed all ties with their controversial past. On their website, the "history" of the company begins in 1950 — after the war, and just before Doc Martens established itself in England.
So, if you want to wear your docs but don't want to seem NSDAP-sympathetic, fear not. You are more likely to be misconstrued today as a fashonista than a skinhead — or, best-case scenario, a person who enjoys high-quality footwear. Yet it's important that we understand the social and cultural implications behind the stuff with we choose to fill our lives with, so that we may make the most educated purchases that we can.