Reporting contributed by Jake Lucas
At noon on Friday, a group of roughly 50 Boston University student protesters entered the office of university President Robert A. Brown. Their protest was organized by Gender Neutral BU, an activist group organized in reaction to Boston University's decision to table plans to implement Gender Neutral Housing in on-campus residences for the Fall 2013 semester.
The protest followed a meeting held by concerned students on Monday, December 10 to discuss actions they could take to express their dissatisfaction with the University's decision. It was announced a day in advance, with students planning "to hand-deliver the proposal for Gender Neutral Housing to the office of President Robert Brown."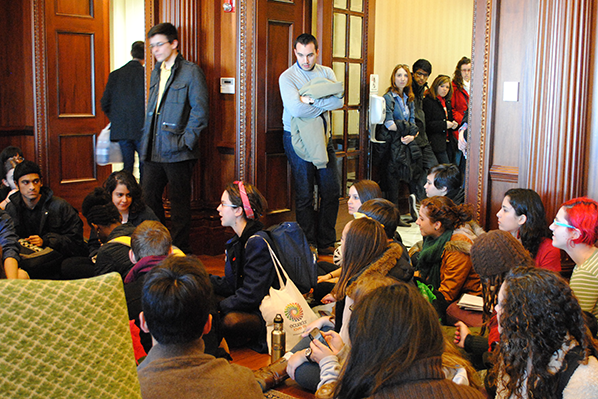 On Friday, students gathered outside 1 Silber Way before entering the Office of the President. According to a statement issued afterwards by Gender Neutral BU:
Each student hand-delivered a copy of the proposal, originally submitted by Student Government, as well as a copy of an online petition created Monday. Vice President Douglas Sears denied students' request to schedule a meeting with the President. Students proceeded to sit in the office, using their voices to share personal stories regarding how the administration's failure to implement Gender Neutral Housing affects their campus.

The gathered students then sat on the floor of the office, singing, chanting, and sharing personal stories of how they were effected by discrimination and intolerance while living in campus housing.
After a period of about 45 minutes, the assembled students were told to vacate the premises by the Dean of Students, Kenneth Elmore. The students were accused of trespassing and therefore threatened with arrest or suspension if they failed to cooperate. While leaving, "students passed police officers armed with batons and zip-tie handcuffs," but the situation was resolved without incident.
Colin Riley, Boston University's Executive Director of Media Relations, described the accusations against the students as "pretty straightforward." Riley said that the students had "no business in the space" and were creating a "disturbance in a building with other activities taking place." He analogized the situation to "walking into a research laboratory or onto the ice during a hockey game," saying there are spaces on campus where students can be an unwelcome disruption.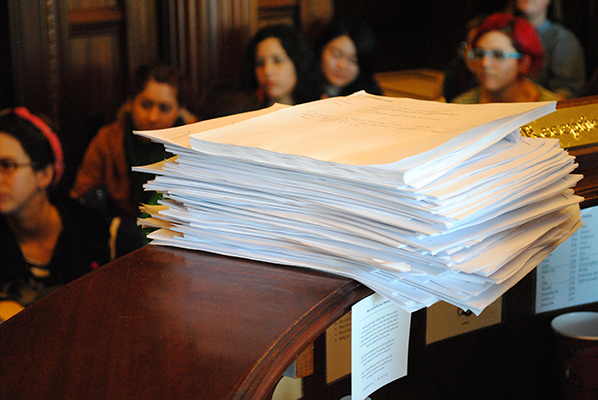 One of the student protesters, Chelsea Schwalm (CAS '14), said, "To be honest, I feel really uncomfortable and shocked about what happened up there." Schwalm said she felt unsafe while in the office, something she never expected to feel at her own university.
When asked afterward about the protest, CGSA Co-Director Sasha Goodfriend (CAS '14) said that the students had not achieved their goal. "Our goal was to get a meeting and we didn't get that. [But] a main point was just to express our discontentment with the administration going back on their word."
An online petition begun by Gender Neutral BU has already received over 2,300 signatures. The group has vowed to "not rest until the issue of Gender Neutral Housing is appropriately addressed by the administration and the safety of all students is made a priority." Gender Neutral BU has also received vocal support from Boston University's newly-elected student government.
Correction: the original article from 12/14 misrepresented Chelsea Schwalm's gender as he/she rather than she/her.