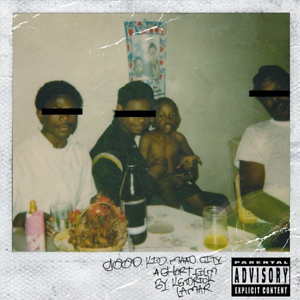 Concept albums are weird, nebulous things. They require the artist to somehow balance a narrative with enjoyable music, something that isn't exactly easy to do. It almost never happens. I love a good concept album (even the unreleased ones); but, typically, you either get a great album with a vague concept or a great concept with cumbersome music. Off hand, I can't think of a single concept album that's ever struck a great balance. Until I heard good kid, m.A.A.d. city, the new album by LA rapper Kendrick Lamar.
good kid, m.A.A.d. city is very much a concept album. The album starts with Lamar, 17, driving his mom's van to see a girl. From there, it careens into a story about Lamar's childhood–his life in Compton, his experiences with gang violence and the hopeless environment that surrounded him, and his eventual realization that he doesn't have to end up a victim of the city. It's not an easy listen–there are some legitimately heartbreaking moments on this record–but it's compulsive. Like a good book, you'll want to know what happens to the protagonist. The album is subtitled "A Short Film by Kendrick Lamar." It's an apt subtitle.
But, does the album sacrifice musical enjoyment for the sake of its story? Incredibly, it doesn't. This album is an absolute masterpiece. It expertly ties its narrative into straight up great rap music. Take a listen to "Swimming Pools," the album's second single. Without any knowledge of the album's concept, the song is still a phenomenal single. On the surface, the song sounds very typical–Lamar raps about drinking far too much over a woozy beat before the song breaks into one of the most quotable choruses in recent memory. However, when examined in the context of the entire album, the song becomes something much different. It's not about the joy of drinking at all. It's actually about Kendrick trying to reconcile his own distaste for alcohol with the fact that his friends expect him to drink himself into oblivion. Listen to Kendrick closely, and it soon becomes apparent that he's scared to death of the whole situation ("if I take another one down/I'ma drown in a poison abusing my limit"). But he does it anyway.
The entire album is full of moments like this. On "Backstreet Freestyle," Kendrick sounds like a stereotypical macho rapper, boasting about his money, women and general greatness. In context, Kendrick has actually been told by one of his friends to try freestyling over a beat CD. This isn't Kendrick bragging so much as it is him imitating and finding his voice. Cars, money and girls are what all the rappers he idolizes seem to talk about, so why shouldn't he?
Of course, this album isn't only good because it's a great narrative rap album. It's also great because Kendrick is a frighteningly talented musician. He raps in double and triple time and changes voices at will. Want G-funk? Kendrick can do that ("Poetic Justice"). Laid back, casual West Coast rap? He can do that too ("Bitch, Don't Kill My Vibe"). Hell, listen to "Backstreet Freestyle." It's certainly an interesting anecdote about Kendrick's childhood, but it's also an incredible showcase of Lamar's talents and a hit single in waiting. On that one song, Lamar raps in three voices, switches time signatures whenever he feels like it, and does this all without distracting from the song's manic beat (provided by the consistently brilliant Hit-Boy).
The production is also great. Beyond the aforementioned beat on "Backseat Freestyle," most of the songs opt for a more subtle, almost minimalist style–lazily strummed guitar on "Bitch, Don't Kill My Vibe," slow piano on "Sing About Me, I'm Dying of Thirst." There are also quite a few phenomenal guest appearances the best being MC Eiht's menacing verse on "m.A.A.d. city" which starkly contrasts Lamar's hysterical, crazed rapping on the same song.
Speaking of guest appearances, the album does have one misstep. Namely, "Compton," the album's last track, and the only one to feature erstwhile Executive Producer Dr. Dre. It's Dre's only appearance on the album–he doesn't have a production credit on any of the album's main tracks. The whole song sounds stiff and awkward, as if Dre had to appear at least once on this thing. It also doesn't work as an ending–people seem to think that the song is supposed to act as a sort of "credits" for the album, but it adds nothing and just sounds like it was stuck there at the last minute.
I think the album's actual ending is the previous track, "Real." Coming right after the unbelievable 12-minute "Sing About Me, I'm Dying of Thirst," "Real" finds Kendrick refreshed and revitalized, finally comfortable with the fact that he doesn't have to end up as just another body in Compton. It ends with an almost tear-jerking message from Kendrick's mother. She calls him, wondering where he is and hoping that he's okay, saying, "If I don't hear from you, by tomorrow… I hope you come back, and learn from your mistakes…and I love you, Kendrick." You can hear the nerves in her voice. If the album had ended here, it would have been essentially perfect.
It's not perfect, but good kid, m.A.A.d. city is still one of the most stunning albums of the year. It's very likely the best, as I can't think of any release topping this. Go listen to it right now.