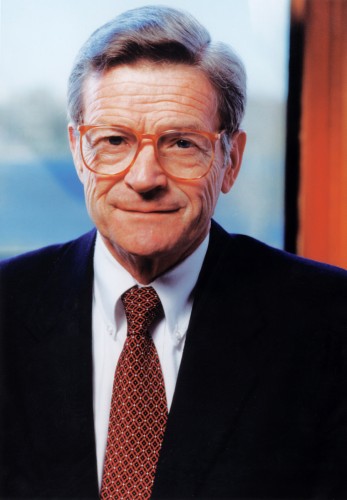 Former Boston University President Dr. John Silber passed away this morning, September 27, from kidney failure. He was 86 years old.
"Our thoughts and prayers go first to [Dr. Silber's] family, including especially his children and grandchildren," wrote University President Dr. Robert A. Brown in a letter to the school. "Their loss is greatest and most immediate."
Dr. Silber, who served as president from 1971 to 1996 and chancellor from 1996 to 2003, is best known for having implemented some of both Boston and BU's greatest educational aspects while being controversially reputed as "proudly elitist and forthright in his traditionalism," according to The Boston Globe.
Facing the university's $8.8 million deficit, disorganization, lack of technology, and little fundraising at the start of his term, Dr. Silber recalled "running Boston University [back then] was like trying to fly a 747 without avionics, without an instrumental panel," to the BU Bridge in 2002.
Nonetheless, Dr. Silber managed to balance BU's budget in a year and a half and furthermore increased BU's endowment from $18.8 million to $430 million under his 25-year presidency. Dr. Silber successfully recruited notable faculty including Nobel Prize winners Elie Wiesel, Derek Walcott, and Saul Bellow. Boston University Academy was founded and the physical campus size doubled, adding new buildings such as the Metcalf and Photonics Centers and the School of Management.
While failing to secure the state governorship in 1990, Dr. Silber remained active in shaping the Boston and Commonwealth community. Dr. Silber helped establish the Boston University/Chelsea Partnership in 1988, where the university managed the failing public school system for two decades. Serving on the state Board of Education from 1995 to 1999, Dr. Silber also led the design of the MCAS exams, which are administered annually to public school students throughout Massachusetts.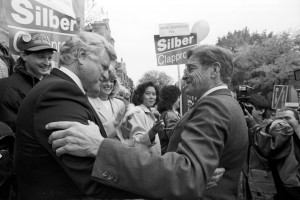 Such accomplishments did not come without criticism. In a 1977 Esquire article, late writer Nora Ephron called Dr. Silber out as "the meanest SOB on campus," while his own faculty voted to fire him twice.
Dr. Brown, while praising Dr. Silber's accomplishments, acknowledged the President Emeritus's abrasive manner.
"There were some who found fault with [Dr. Silber's] candor, and those who disagreed with him on some policy or decision, but nobody can deny John's legacy," said Brown. "He was famously outspoken and unhesitant in decision-making. He left an indelible imprint on Boston University and set the foundation for the course to greatness that we are steering today. We owe John a tremendous debt of gratitude."
Colin Riley, BU's Head of Public Relations said Dr. Silber "had a vision" for BU, and transformed the university by bringing in strong faculty and raising the academic caliber for both applicants and students. As for his demeanor, Riley recalled Dr. Silber's remark when anyone would introduce him as the controversial president of Boston University.
Said Silber, "Controversial is the least you should expect of a living, breathing human being."
Dr. Silber is survived by six daughters, one son, one brother, 26 grandchildren, and three great-grandchildren. Memorial information will be published when available.