Our little girls are growing up.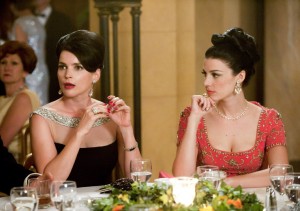 This week's episode of Mad Men explored the relationships between parents and daughters and the inevitable conflicts that arise when the daughters grow up.  The episode was on point and right on time—it was time that Sally finally put on her big girl shoes, it was time we met Megan's elusive parents, and it was definitely time Peggy and her mother finally had it out.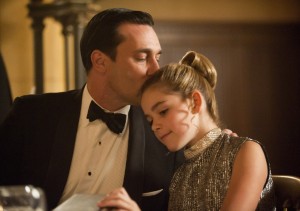 Sally Draper has undergone major character development in Mad Men's most recent seasons. As the child of the dysfunctional marriage of two extremely dysfunctional people, Sally was destined to have a difficult time growing up.
Sally has managed her circumstances admirably with the help of her wise therapist (who saw that her mother was the one who needed the most help), learning to prioritize her frustrations and define herself as an individual. Sally carries the coldness of her mother and the smooth manipulativeness of her father within her—she's able to spin a situation or shut an enemy down at the drop of a hat (see how she stole five dollars from her grandfather and blamed it on the maid a few seasons back, or how she subtly blamed baby Gene's toys for Pauline's fall in this episode).
We've seen her growing exponentially over the course of this season, and in this episode we finally saw the "a-ha!" moment; Sally is now a young woman, not a little girl. As she glided into the room, graceful and confident in her adorable and completely 60's-fabulous getup consisting of a glittery halter top, miniskirt, bouffant, eyeliner, and white go-go boots for her daddy's big awards dinner, she was never more different than the innocent Sally of season one, with her cupcake dresses and pin curls. Of course, this was no fairy tale, and there was no time wasted between her time as a child and her new identity as a sexual object in the 1960's. "Soon your daughter will spread her legs and fly away," Megan's father Emile said, in a line as biting and terribly funny as the show has ever had.
Sally's Cinderella moment was, as predicted, sundered quickly and shockingly, when she unwittingly walks in on exactly the type of behavior that Emile sneeringly warned of. Sally returns silently to her chair and eats the fish that she refused as a child. She is a woman now, and does what is expected of her, even when it does not go down easily.
The Calvet family dynamic is, appropriately, devastatingly academic and very, very French. Despite the fact that they are Canadian, the Calvets are continental and fabulous in a way that no one else on Mad Men is. Marie enters the room dressed in head-to-toe magenta with a matching hat and chunky gold jewelry (a bold ensemble even today), then changes for dinner at home in a chic little black dress worthy of Audrey Hepburn. She falls asleep with a lit cigarette in her hand and her shoes on in a wine-induced haze. Her husband Emile is every inch an academic, with quirky little round black frames and tweedy plaids.
Marie and Emile Calvet's marriage is crumbling and sarcastic, all romance and passion gone, and they take their frustrations out on one another using sex, alcohol, and money. Marie's dress at the awards dinner (black with a low neckline, sheer netting, and a bold jeweled neck piece) is the height of style, but extremely risque for the time, signifying both her wealth and her reliance on her sexuality as a tool. The tension between Megan and her parents is clear throughout the episode, not only in dialogue ("You've changed," her father tells her) but in apparel. When Marie is in pink, Megan is dressed in green, opposite each other on the color wheel. At the ball, Megan wears a gorgeous and modest coral, while Marie wears daring black. Megan is on her game the entire episode, showing that she is not only a gifted professional, but that she and Don make an excellent team. "Some things never change" is a brilliant tagline, and, not coincidentally, echo the themes of the episode perfectly—family tension will never change.  Her outfits often coordinate with Don and their apartment , but always clash with her parents. They don't like that their daughter is gifted and happy at what she does, a fact which brings them all down.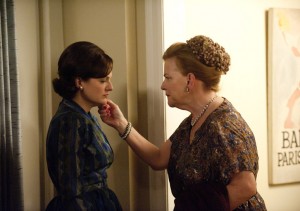 Peggy's life has reached a satisfying stability, both personally and professionally. As Abe and Peggy sit together in the office in subtly coordinating outfits (grey, high collars, slashes of red) we know that they are a good match—he likes her for who she is, and respects her role as a modern professional woman.
Joan smartly advises her that Abe may propose when he insists upon dinner at seven one night, and Peggy falls into an old-fashioned tizzy. She goes out and buys the most obviously feminine outfit in the world, a hot pink cupcake of a dress (take note, Pegs: pink is not your color) but, lo and behold, Abe's request is much more modern than all that. Peggy hesitates, her traditional Catholic upbringing weighing on her, but accepts and is overjoyed when she gets Joan's honest (and heart-warming) approval.
All is not well, though—Peggy decides to tell her mother, and it does not go smoothly. She dresses in her most traditional 50's silhouette, but still clashes with her mother, their busy patterns fighting one another. Katherine Olsen is horrified by the news, taking away the delicate cheesecake she brought ("I'm not giving you a cake for living in sin!") and suggests that Peggy should have let her live in ignorance. Projecting her own loneliness on her daughter, she says "You're lonely? Get a cat. They live thirteen years, and then you get another one, and then you get another one, and then you're done." Of course this was not going to go well. Peggy needed to finally hear her mother's disapproval after years of tacit silence. They needed to have it out. Peggy's all grown up now, however, and her mother's disapproval can't change her mind now.
The ladies of Mad Men are all doing all right for themselves, forging their own personal and professional identities and celebrating their earned successes, but there is no success without some force pulling them back. In this episode, that force came in the forms of mothers and fathers. We saw hints of true sisterhood among them this week, real steps forward, but the creators of Mad Men know that there will always be a struggle for these women, some insurmountable test for them to defeat.