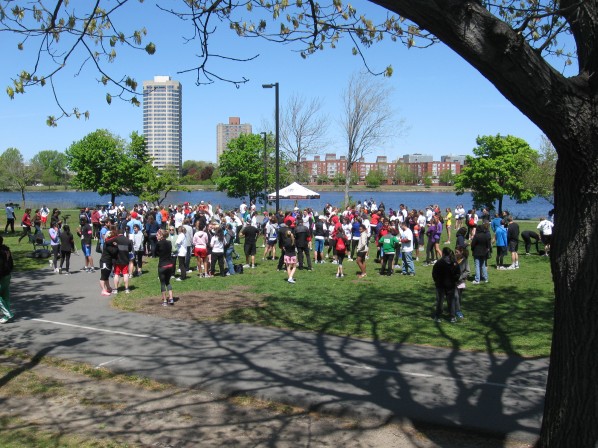 On April 28, BU students and community members gathered behind Towers at the Charles River Esplanade for Race For Her, a 5-K race from which all proceeds went to stopping human trafficking. The race was organized by BU Students Against Human Trafficking (SAHT) and Mishaal, a group that strives for access to education in underprivileged communities in South Asia.
Those who registered for the event were given t-shirts with the slogan "Real Men Don't Buy Girls," and the line of participants checking in stretched far across the Esplanade. According to SAHT President Alyssa Tochka (CAS '12), the high turnout "surpassed our wildest dreams."
"We were only expecting there to be around 70 people," she explained. Close to 400, including volunteers, showed up.
All proceeds from Race For Her went to the Somaly Mam Foundation, an organization that fights sex trafficking in Cambodia, and to Trust to Reach the Unreached (TRU), a group that helps girls in rural India attend high school. Selam Mehretu (CAS '12), also from SAHT, said, "We chose [these organizations] because these women need help, and we feel like it's a good cause."
This is the first time SAHT and Mishaal have organized Race For Her, but it still made End Slavery Now's International Calendar of Anti-Trafficking Events. The two groups came up with the idea of a 5-K themselves. "We weren't following any precedent or any other group that had done one for human trafficking before. So it was our own name and our own organization and everything." said SAHT Public Relations Coordinator Julia Mackin (CAS '12).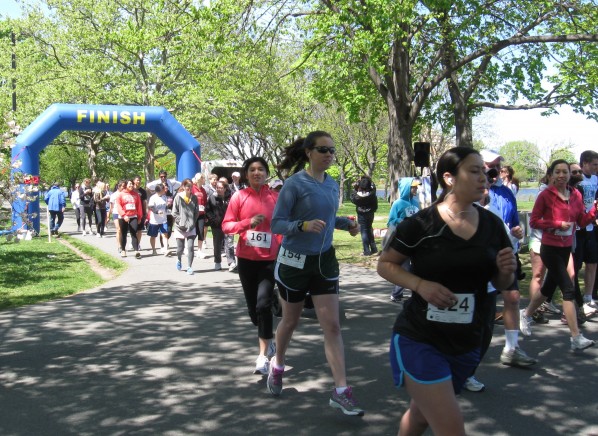 Both of these clubs are passionate about stopping human trafficking. It's important to Mehretu "because we are women ourselves, and we consider ourselves lucky that we aren't trafficked. We think that human trafficking is an incredibly serious issue that not enough people know about, and we were able to raise awareness to actually stop this evil occurrence that's going on throughout the world."
Participants chose to run in Race For Her for a variety of reasons. One runner, Carolyn Cicalese (COM '14), came to support a friend. "My friend told us about the event because she's volunteering today," she said. "She was telling us about the cause and that we would get t-shirts, which she was really excited about, so we decided to sign up and support her in that."
Another runner, Joe Chaides (CAS '13), said he signed up "because I love running 5-Ks. This is the last one I get to do in Boston before I go back to California. I'm using this as a great way to warm up for my marathon in the future."
"It's great that we're doing it for a cause," he added.