Last night Invisible Children brought Kony 2012 to BU, urging students to take action and spread the word.
Despite a dismal turnout, roadies with Invisible Children and BU students sat together in silence as the 30-minute video screened at the Jacob Sleeper Auditorium in CGS. The video, which was released three and a half weeks ago, has already received 140 million views. This came as a shock to everyone working within the organization. They were only expecting half a million views by the end of the year. After the video, a young Ugandan man spoke of his struggle and described Invisible Children's efforts in educating children. The rest of the time was devoted to a question and answer forum. T-shirts, stickers, and badges were available for purchase along with "action kits" to spread awareness across the city.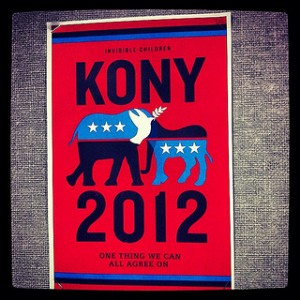 The video depicts the struggle in Uganda and the mission of Invisible Children. This is accomplished through the voice of Jason Russell, who had traveled, in the midst of war, to Western Africa in 2003. The footage specifically targets Joseph Kony, the rebel army leader who has been abducting children for 26 years. Included in the video are scenes of Russell's young son and a Ugandan refugee named Jacob.
Since the video has been released, it has garnered global attention, praise, and criticism. Only this past October did the U.S. send 100 American advisers to Uganda. Invisible Children's goal, as pictured in the video, is to have a headline reading "KONY ARRESTED" in all major newspapers. In order for this to happen, the youth and the government have to act.
A big part of Invisible Children's campaign is redefining propaganda. They want to go beyond Facebook and Twitter posts and cover cities with posters and stickers. One such opportunity is Cover the Night, a Facebook event happening on April 20. Participants are invited to blanket the streets with posters and other propaganda.
Another goal of the campaign is to involve all different types of people. Arresting Joseph Kony should be something that concerns everyone, so Invisible Children is lobbying Congress for their support. Already, they have gained some support from the government. This is added to the already growing support of the Ugandan people, who are grateful for any sense of hope.
Only time will tell if Invisible Children's efforts will pay off. From the look of last night's turnout, it seems as if BU has forgotten about KONY 2012. Whether the release of the second part of the video will ignite the fire is yet to be seen. The youth of America needs to stand up and do what is right.