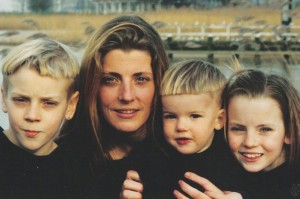 On March 28, I saw No Way Out But One for the second time. This time the screening was sponsored in part by the CAS Women's, Gender & Sexuality Studies Program as a part of Women Take the Reel, a film festival celebrating Women's History Month through screenings of films written, directed, and/or produced by women.
The 6 p.m. screening included a Q&A featuring Professor Waller; Barry Nolan; Lundy Bancroft, an author and consultant on domestic abuse and child maltreatment; Dr. Eli Newberger, the Collins children's former pediatrician at Children's Hospital in Boston; and Holly Ann Collins herself. Robin Young of WBUR's Here and Now moderated.
Since last December, the documentary has been screened at the Institute on Violence, Abuse, and Trauma (IVAT) Conference. It has also won several awards including an Award of Excellence for Feature Documentary from the Accolade Film Awards. At the end of the evening, it was announced that copies of No Way Out But One would soon be distributed to every member of Congress.
Throughout the Q&A, the panelists stressed that while Holly Collins' story is unique, the situation from which she and her children escaped is not. A few of the panelists cited corruption in the family court system as a key problem; others pointed to lingering traces of misogyny in court practices. They all agreed, however, that we need to first raise awareness of the injustice in the family courts if we want to find a practical solution to the problem.
And Holly Collins? She wants to do more to help others who have been hurt by the family court system, but for now she's enjoying the wonderful life she's always wanted.