The Black Keys are an example of a true American success story. Hailing from Akron, Ohio, Dan Auerbach and Patrick Carney were about as cut-off from a thriving music scene as any musician from a small town can be. However, their passion and love for good old-fashioned rock-and-roll have made the duo into a phenomenon. After five albums, The Black Keys finally got the praise and recognition they deserved with their 2010 album, Brothers. They've had a busy two years since and show no signs of slowing down. Fresh off the release of El Camino, the Black Keys brought their arena tour Wednesday night to TD Garden, where they showed that simple can be spectacular.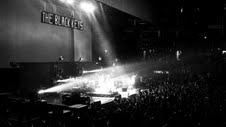 Arctic Monkeys opened the show and definitely gave the crowd something to talk about. Already a major success in UK, the Arctic Monkeys played earlier hits like "I Bet You Look Good on the Dancefloor," but also songs of their fourth and latest album Suck It And See. Frontman Alex Turner looked straight out of a 1950's stylebook and added to the cool factor when he swung his leather jacket over his shoulder as he left the stage.
The Black Keys played for 5,000 people last time they were in Boston, but a couple of years can make a huge difference. Playing to a sold-out crowd—the Garden's capacity is 20,000—the Keys' old school sensibility wowed. Oldies but goodies by the likes of Otis Redding and Lee Dorsey were played before the show. Musicians who reach the pinnacle of success often go all-out on stage, but The Black Keys' simple setup perfectly complemented their music.
Taking the stage, they began an almost two hour show with hits from Brothers, and then went straight into newer songs that are more fun and bigger-sounding than their earlier work. However, The Black Keys really shined during a four-song set featuring just the two guys, with Auerbach riffing like sweet poetry and Carney pounding on the drums. They managed to make an arena concert feel like an intimate jam session; the crowd loved it.  The show never slowed down, with Auerbach saying, "Let's keep it moving along." After living under the radar for so long it's not hard to understand why he'd want that.
Finishing up with hits "Tighten Up" and "Lonely Boy," The Black Keys showcased their stellar musicianship that left the crowd starving for more. As a giant disco ball descended from the ceiling, the audience was treated to mesmerizing slow number, "Everlasting Light," that would justify any lighter or cell phone waved in the air.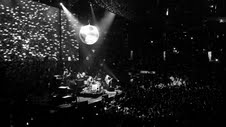 Playing the last song of the night, "I Got Mine," off of their fifth album, The Black Keys proved that their music has always been good. It just took the world a while to take notice.
Songs worth a listen: "Little Black Submarines" "I Got Mine" "Tighten Up" 
Arctic Monkeys "Don't Sit Down 'Cause I've Moved Your Chair"