It's not often one comes across a covetable item when rummaging through old boxes or through the basement. Perhaps an old photo stirs up memories of a bad hair day, but the box will probably end up going back to its dusty spot and forgotten once again.
The same could not be said for photographer Mike Mitchell, who is most famous for his Beatles shots in the early '60s. Last summer he uncovered 46 never-before-seen photographs of the Beatles' first U.S. concert in 1964 after the Ed Sullivan Show. Digital Silver Imaging, a black-and-white photo lab, repaired Mitchell's silver gelatin prints that were once unsalvageable. The discovery made international headlines and the photos were auctioned in July, selling for over $364,000.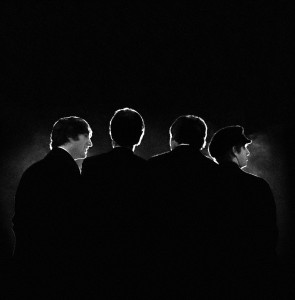 Luckily for Bostonians, one of the most iconic images is on display at the Griffin Museum of Photography by Digital Silver Imaging, located in the South End. Originally sold for $68,500, the photo is now up for sale for $85,000. At least the frame is included.
This satellite gallery of the Griffin Museum in Winchester has exclusively acquired rare Beatles photos for the exhibit, simply titled Rock & Roll. Mitchell's work, along with that of other well-known photographers, captures some of rock's greatest heroes.
Curator J. Sybylla Smith managed to blend 60 years of rock and roll into one small gallery. Picking a photograph from each era, Smith made a big impact with her selection of portraitures and live action shots that range in subject from Led Zeppelin to Aerosmith.
However, the crown jewels of the exhibit are the four Beatles shots. Mike Mitchell's masterpiece signified a bright moment for the fab four, as they were about to launch the U.S. into a frenzy. "The [Washington Coliseum] show solidified their over-the-top fan base," said Smith.
However, there is more to the exhibit than one stunning photograph. Just as striking are three rare images from Astrid Kircherr, who photographed the Beatles in Hamburg when they were a group of a five. Alongside Kircherr's work are shots by three other female photographers.
Rock & Roll will be on display until March 10, but don't fret if that's too soon. iSee will open on March 15, and it is a collection of 96 images taken by esteemed photojournalists using the Hipstamatic app.
When asked which group she preferred—the Beatles or the Stones—Smith didn't have much trouble picking her favorite. "The Beatles are more integrated in my life." Case in point? She lived on the same street as Lennon in New York. While most of us aren't that lucky, we can relate to music in our own ways. Lennon once said that "music is everybody's possession." Rock and roll, as it seems, is no different.
The Griffin Museum by Digital Silver Imaging is located at 4 Clarendon St, Boston, MA.