Hockey fans of Boston University, I have two confessions to make. First, I still haven't made a decent effort to understand the sport. Second, I feel I need to apologize for my tendency to become a pacifist when it comes to sports rivalries.
I feel like I'm the one who's missing out here, since my roommate/hockey expert (or so she seems to me) describes the BU-hockey relationship as "really important, because we're a really big university, and it's something we can all talk about and of which we all feel proud." Inspired by her words of wisdom, I did some research into the history of BU's most prominent (and currently ongoing) men's ice hockey tournament: Beanpot.
Beanpot began in December of 1952, though now it's always played on the first two Mondays of February. It started as a filler tournament to help the Boston (now Matthews) Arena earn money in the off-days after Christmas, according to unofficial Beanpot historian and Northeastern sports information director John Grinold. It became wildly popular, selling out for the first time in 1961. Now, Beanpot is held at TD Garden, where each year teams from BU, Boston College, Northeastern, and Harvard compete in what is often called the most intense rivalry in college ice hockey.
Harvard won the first Beanpot, overpowering BU with a score of 7-4. BU didn't win a tournament until 1958, when they beat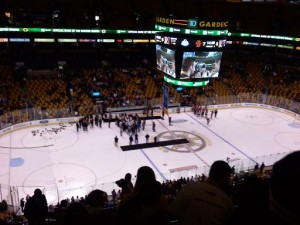 Northeastern 9-3. With 29 wins, BU holds the record for the most Beanpot victories, followed by BC with 16, Harvard with 10, and Northeastern with 4. BU also claims the longest winning streak, with six consecutive wins between 1995 and 2000.
Perhaps the most potent inter-school rivalry within Beanpot is between BU and BC, and the reasons for this aren't surprising. Not only are BU and BC first and second respectively when it comes to the total number of tournaments won, but every championship game since 1952 has included BU, BC, or both schools. Harvard and Northeastern have never competed against each other in a championship game.
Though I imagine the term "Beanpot" usually brings to mind the men's ice hockey tournament, there are also Beanpot tournaments for women's ice hockey, softball, women's rowing (which also includes MIT), men's and women's soccer, cycling, and baseball, with the University of Massachusetts at Amherst replacing BU since BU doesn't have a varsity baseball team. In the women's ice hockey Beanpot, Harvard and Northeastern dominate.
For this year's men's ice hockey Beanpot, it's BU versus BC at 7:30 tonight at TD Garden. Now that I know a little more about the tournament, I predict that it's going to be an intense game. (And I may not be a fan of sports rivalries, but even I realize that might be a bit of an understatement.)