Vegetarian? Vegan? Sick of friends constantly going to restaurants where the only things available to eat are french fries and steamed vegetables? Have no fear! There are plenty of wonderful restaurants around Boston that cater specifically to the vegetarian and vegan crowd. Here are my personal top five favorite veggie restaurants in Boston, which are waiting for customers to come in and explore their glorious menus.
THE GRASSHOPPER:
A mecca of deliciousness, this exclusively vegetarian dinery has more than enough options for vegans and vegetarians alike. This Asian-themed restaurant has plenty of dishes, ranging from veggie-chicken fingers to stir-fried seitan and spicy hot and sour soup. The restaurant even has a number of vegan desserts to offer, including vegan blueberry cheesecake, vanilla white cake, and even the quintessential chocolate cake. A Boston vegetarian's life can not be complete without a visit to The Grasshopper.
Location: Allston, 1 N Beacon St.
Price Range: $1.50 (side of white rice) to $14.45 (the fanciest plate on the menu, the Grasshopper Supreme – savory chili-basil sauce on skinless steamed eggplant served with asparagus, spinach and portabella mushrooms, served with house salad and steamed brown rice)
Meat Available?: Nope! No meat options here!
(Menu)
VEGGIE GALAXY:
Located in Central Square, Veggie Galaxy is indeed a galaxy of some of the best veggie foods the Boston area has to offer. With a menu for breakfast, lunch, and dinner, and a variety of delicious desserts to offer, Veggie Galaxy knows how to cater to the option-craving veggie-crowd in Boston. The restaurant has an awesome 50's diner feel to it and the friendliest staff around. To top things off, all of the desserts offered are vegan and to die for. Veggie Galaxy offers lunch specials such as the amazing and delicious Club – Grilled Tempeh Bacon, Smoked Tofu, Balsamic Roasted Tomato, Romaine, Pickled Red Onion, Tarragon Basil Pesto, and Roasted Garlic Mayo – and really, who, vegetarian or not, wouldn't want to eat that?
Location: Central Square, Cambridge, 450 Massachusetts Ave.
Price Range: ~$2.00 for a variety of breakfast sides (single pancake, egg, $3.00 for dinner sides) to $11.95 (three dinner options – Glazed Seitan Loaf, Vegetable Pot Pie, and Beer Battered House Smoked Tofu – mmm!)
Meat Available?: Nope! No meat options here!
(Menu)
VEGGIE PLANET:
The precursor and cousin to Veggie Galaxy, Veggie Planet is definitely the best planet out there. It has wonderful vegetarian and vegan options and perhaps the best and most interesting vegetarian pizzas around. Veggie Planet mixes it up a bit and gives you the option to order on pizza dough, or a bed of brown or coconut rice.  A personal favorite offered at Veggie Planet is the Eggs Benedict brunch pizza, served with homemade tempeh bacon and topped with vegan hollandaise sauce, mm mmm! Veggie Planet offers a weekend brunch, lunch, and dinner menu.
Location: Harvard Square, Cambridge, 47 Palmer St.
Price Range: ~$3.00 (brunch sides, tempeh bacon and home fries) to $11.35 (the weekly dinner special or the "Safe & Sound" – fresh marinated tomatoes, sliced mozzarella and asiago cheese, topped with basil and fried garlic)
Meat Available?: Nope! No meat options here!
(Menu)
PIECE O' PIE:
It would be unfair to make any mention of veggie pizza without speaking of the glory and wonder that is Piece O' Pie. A vegan pizzeria based out of Allston, Piece O' Pie has a variety of specialty pies, calzones, and even vegan sandwiches to offer. From "The EP" pizza – smoked organic tempeh, sun-dried tomatoes, spinach, and sautéed roasted garlic – to the "Perfect Pesto" sandwich – Balsamic roasted zucchini, onion, garlic, green pepper, portabella and white mushrooms, basil walnut pesto, garlic butter drizzle and mozzarella Daiya – everything at Piece O' Pie is absolutely delicious. The restaurant even has a few desserts to offer to go with that delicious vegan slice. On the first Sunday of every month, Piece O' Pie serves a buffet-style brunch from 11am – 3pm, served by the pound.
Location: Allston, 487 Cambridge St.
Price Range: $5.00 (Onion rings, hand cut french fries) to $21.00 (for the largest and most delicious pizzas like "The Fresh"- dollops o' pesto and cheese topped with broccoli, onion, and roasted garlic)
Meat Avaliable?: Nope! No meat options here!
(Menu)
THE OTHER SIDE: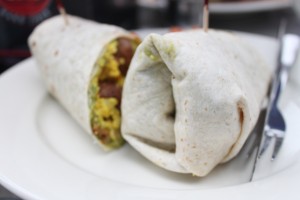 Though not sprinkled with vegan options like the wonderful restaurants mentioned previously, The Other Side Café has some delicious options available for vegans and vegetarians alike. Perhaps the best thing about The Other Side is their weekend brunch menu, which is available 10am to 3pm every Saturday and Sunday. With options such as the "Waffle Sandwich" – a sandwich made with, you guessed it, waffles, and eggs and the option to add veggie bacon or sausage, this brunch is amazing. The dinner/lunch menu has some great options as well, including the "Vegan BLT" – fakin' bacon, lettuce, tomato, and vegenaise, which is absolutely delicious. The Other Side also has movie night every Sunday at 9pm!
Location:  The other side of Newbury St., 407 Newbury St.,
Price Range: $3.00 (brunch sides, home fries, yum) – $11.75 (fruit, cheese, and bread appetizer, $10.75 for vegan Mock Chicken Salad)
Meat Available?: Yes there is meat here for all those meat-eaters!
(Menu)
So go out and veg out! Next time friends want to dine-out, instead of having that same old plate of sweet potato fries from Sunset Cantina, suggest one of these fantastic veggie places, and I'm sure you won't be disappointed.