With Sundance Film Festival wrapping up this weekend, the next big event on the film scene is the Academy Awards. Both events, each representing different aspects of the film industry, award accolades that often make audiences sit up and take note. But what does winning the jury prize at Sundance or being nominated for best picture really do for a film? How do awards shape viewership and vice versa? And what is Sundance, anyway?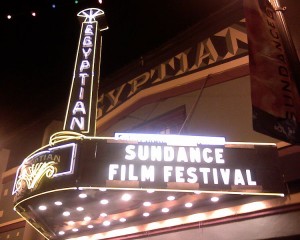 When I asked my roommate where Sundance Film Festival takes place, she responded with a cool, "Colorado."
Nope, try again.
"Ummm. New Hampshire?"
Way off. Sundance takes place every year in the great state of Utah. Debuting in 1978 in Salt Lake City, Sundance, then known as the Utah/US Film Festival, was the brainchild of Sterling Van Wagenen, John Earle and Cirina Hampton Catania, all members of the Utah Film Commission. The festival was aimed at luring filmmakers to Utah. Originally, the focus was on screening classic films, like Deliverance, A Streetcar Named Desire and Mean Streets. Panels of famous industry figures, which included actresses like Cicely Tyson, would watch and discuss the films after viewings. Besides screening classics, new works were shown and awarded prizes, but they mainly focused on retrospective discussion.
After the first festival, debt prompted a second. By 1980, the location moved from Salt Lake City to skiing haven Park City, Utah, in order to draw a larger audience. Robert Redford's Sundance Film Institute took over in 1985, renamed it Sundance Film Festival, and has been running it ever since. Although a popular film festival before, Robert Redford's takeover expanded award categories and pushed the festival further into the public eye–and the film industry's. Throughout the years, many alternative hits have screened there, including Sex, Lies, and Videotape (1989), Reservoir Dogs (1992), The Blair Witch Project (1999) and Little Miss Sunshine (2006).  
Sundance has always been about getting artists' work out to the public, and they've embraced spreading movies to audiences all over the country. Starting in 2005, as part of its 25th anniversary celebration, the festival included the Sundance Institute Art House Project, which selected twelve art house theaters throughout the country to screen Sundance films. The Coolidge Corner Theater was chosen, and is presenting a selection of shorts January 30-February 2.
But what kind of audience are these shorts intended for? According to Dr. Deborah Jaramillo, a Boston University Assistant Professor of Film and Television, Sundance's audience is looking for a more sophisticated experience than what's available at Regal Fenway. "There are definitely people who want something more subtle and possibly more substantial in their films; less special effects, more character and writing." These people take notice when a film wins a prize at Sundance. But winning prizes isn't what Sundance is for, at least in the same way that the Academy Awards are. The point of Sundance, and most film festivals, is for artists to get their work exposed, and possibly get picked up for distribution. Last year, movies like Like Crazy; Martha, Marcy, May, Marlene; and My Idiot Brother were among 34 films picked up.
If Sundance is meant to illuminate well-crafted films, the Oscars are meant to reward those involved in making them. The Academy Awards are a much more mainstream event than Sundance, but they still have to power to introduce smaller movies to the masses. The box office numbers of Michel Hazanavicius' The Artist, one of the nominees for Best Picture this year, have been steadily creeping up. Opening on just four screens on November 27 and bringing in a little under $205,000, the movie was playing on over two-hundred screens the weekend of January 15, and grossed over $1,000,000. Obviously audiences take into account what the Academy thinks, and they should.
It's important to note that a lot of aggressive campaigning goes on in favor of certain films, actors or actresses, and that requires a lot of money. But audiences should by no means discount nominees as buying their way in. "To a certain extent we have to understand that these are the 'experts' in their field; these are the professionals. These are the folks who make the stuff, who know the stuff, so what they see as an accomplishment or what they see as art should be taken into account," says Jaramillo. These things aren't decided by the people—that's what the People's Choice Awards are for. Deciding nominees based purely off of box office revenue, essentially the public's opinion, doesn't work. "You can't say, 'We should give a nod to the audience, throw Hall Pass in there.' If we're truly going to believe that award shows have some degree of integrity in the voting process then that can't be the case," she adds.
There's a definite formula to choosing Academy Awards nominees; drama is always favored over comedy, and there's a long-running sentiment (not as true today) that playing a disabled person automatically guarantees a nod. But these conventions are changing with each show.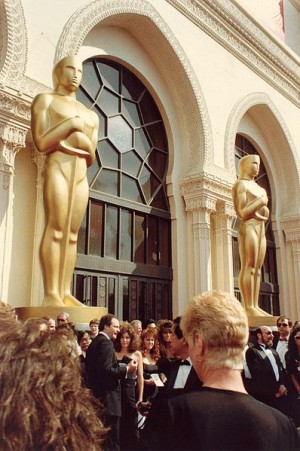 Jaramillo was pleasantly surprised with some of the nominations, including a nomination for Mexican actor Démian Bichir. "Everyone will know him form Weeds. He played Nancy's drug dealer boyfriend. I was very happy he made it because he wasn't nominated for a Golden Globe."
Beyond that, there were also two nominations for Bridesmaids, one for Best Original Screenplay, and another for Melissa McCarthy, for Actress in a Supporting Role. "I think it's a big coup actually that Bridesmaids was nominated for writing, that Melissa McCarthy was nominated, that was very cool," Jaramillo adds.
As award season stretches on, it'll be interesting to see where the public's interests are directed. 2012 will no doubt bring audiences some wonderful films, and some duds as well. Therein lies the beauty of the film industry: surprises abound.
Billy Crystal hosts the 84th Annual Academy Awards on Sunday, February 26th on ABC.