She's famous for one thing in particular: butter. Slathering the product on everything but the kitchen sink, Food Network personality Paula Deen has long been known in the food world as a deep-fried-and-butter-loving Southern charmer. Her food is no doubt comfort food–but it's fattening as hell. I am amazed by Deen's gumption when it comes to cooking: calories do not matter as long as the food tastes good and makes you feel good. Watching her show or flipping through her cookbooks, one cannot help but feel guilty about the fat content of her food. Most of her recipes include butter or mayonnaise, and desserts are laden with sugar. On Tuesday Deen announced that she suffers from type 2 diabetes, a crippling disease, especially for a TV chef. With the unfortunate news, the question comes to mind whether Deen's cooking style led her to the disease. Did she have it coming?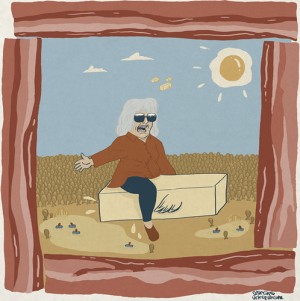 After her "Today" appearance announcing she's had the disease for three years, critics concentrated on her lack of disclosure and her tie-in with Novo Nordisk, a company that makes the medicine she takes. Was she waiting for the perfect opportunity to cash in? With several cookbooks, a successful line of cookware, and her show Paula's Best Dishes, it is unlikely that money was the reason for keeping her secret. The most vicious attacks, however, are on Deen's food. While she has stressed moderation, her food should be consumed sparsely. Her food is pure guilty pleasure. But diet alone does not lead to diabetes; weight and genetics contribute to the disease.
Although Deen should have been upfront about her condition, you can't blame her for wanting to keep the whole thing quiet. Whether or not she is receiving a huge wad of cash as the spokeswoman for Novo Nordisk, the news must have been a devastating blow for someone who built her image on homey Southern food. Hopefully she can change her cooking – maybe not entirely, but make it somewhat healthier. Southern food is not known for being healthy, but it is about time someone changed it up. Her son Bobby has already jumped on that bandwagon with his show Not My Mama's Cooking, where he transforms his mother's food into lighter fare. Ms. Deen, I'm still a fan, but let's get real. A stick of butter? I'd say half.