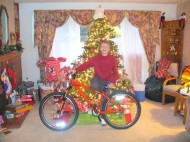 Written with assistance from Allan Lasser.
This last semester flew by quickly; the holidays are approaching even quicker. Make sure that giving (and not just receiving) gifts is on the agenda alongside studying for that chemistry final and writing that final paper. I've tried to help out a bit and compile a quick go-to for places to shop around on the web. Hopefully it gives some ideas, saves some time and doesn't empty your wallet too quickly.
The New York Times Holiday Gift Guide 2011
The New York Times guide is all over the place (in a good way). The main page is well organized, so it's easy to find a category that fits any person's likes. The books section is perfect for avid readers, and their collection of DVDs spans from old classics to new releases. If memories instead of stuff sounds like a better purchase, try looking in the theater section for a selection of musicals and plays for some good ideas.
Nerd Holiday
Nerd Holiday is perfect for the gamer or techie in your life. Full of gadgets, Star Wars memorabilia and tech inspired jewelry, this gift guide has everything a nerd could want. Prices range from under $10 to over $100, so there's gifts to be found at every price range.
Core77 – 77 Must Haves for Hard Times
Core77's gift guide pledges to present everything for getting through rough times and surviving the end times. It's full of apocalypse ready gifts (2012 is coming, after all) like a mini flashlight and water sterilizer pen, as well as more fun gifts like headphones and hula hoops. It even features instructions on how to make gifts for those who don't want to spend much money this holiday season. Best of all, everything on the list is $77 and under! If shopping for someone who already has everything or someone who wants to be prepared for everything , check out Core77 for their unique set of gifts.
Wired Holiday Gift Guides
As if this guide didn't have enough gadgets and tech stuff already. This guide is great for helping pick out the one or two big-ticket purchases of this year. Thorough reviews of high-end electronics and expensive toys make picking a dad-gift super easy—but maybe even forward this list to the parents with a few personal requests (it never hurts to ask for an iPad every now and again).
Valet Mag Gift Guide '11
Valet Mag is known for recommending only the highest quality products to their readers, and their Holiday guide is no exception. It features nicer gifts suitable for a parent or grandparent. This guide is also good for those looking to spend a bit more on a long term significant other. Valet Mag also gives you a large variety of ways to sort their suggested gifts. For something silly or for casual gifts, Valet Mag isn't the place to look. But for a high quality gift that won't end up in the junk drawer by February, Valet Mag delivers.
Etsy Gift Guides
Love the handcrafted gifts available on Etsy but don't have the time to look through their thousands of individual stores? Etsy staff digs through their website each year to present their favorite finds in easily managed collections sorted by price or theme. It's full of gifts with DIY flair, making for perfectly personal presents.
Real Simple Holiday Gift Guide
Real Simple's guides are especially perfect for gifts for Mom or Dad; the magazine generally caters to a more adult audience. But don't ignore this guide right away! Real Simple is the only gift guide here that features a list of gift for pets. Their kids gift guide also has a lot of cool toys, like the best wooden playhouses ,that would be perfect for a younger sibling or cousin. Not all of the collections here are of much use to the average college student, but for the family back at home, Real Simple is a good place to look.
Eater Gift Guide
For the foodies in your life, be sure to check out Eater! With an advent calendar style gift guide, each day features a different food-related gift. Even people whose kitchens already seem to have everything will love the kitchen gadgets featured here. The gifts are sure to be hits too because each recommendation is made by a real chef or food personality.