I love a cappella music, and I love men. Therefore, it's no surprise that I thoroughly enjoyed the Boston University Dear Abbeys' joint show with the Tufts University Beelzebubs, "Men Being Manly III," on November 12 in the Jacob Sleeper Auditorium.
It's the singers' energy that really makes a cappella shows like this so entertaining. From the Abbeys' opening number, Rihanna's "S&M," it became quickly clear that these guys weren't going to imitate classic barbershop quartets like the one in The Music Man (don't get me wrong; I love the Buffalo Bills). Soloist David Valbuena's (COM '13) entertaining kinesthetic interpretation of the song's lyrics set the bar for the rest of the show–it would quickly become a night of infectious moves, golden harmonies, stripping and screaming girls. One girl attended the concert for her 12th birthday party, which might have explained the white limousine stationed outside of CGS.
There were a few songs that stood out for different reasons. First, it was nice to hear Vampire Weekend's "Diplomat's Son" after hearing a sample of it at BU Inspire, complete with endearingly awkward hand gestures from soloist David Skodje (ENG '14). The final song before the encore, David Bowie and Queen's "Under Pressure," featured some excellent harmonies and falsetto lines from Valbuena and Daniel Taylor (ENG '12). By far, the Abbeys gave their most dynamic performance in their encore song, "Wake Up" by Arcade Fire. The belted harmonies were epic. Soloist Luke Savoka (CAS '13) sang some mean falsetto lines. At the beginning of the song, the backup line sounded something like "Obama-llama-drama," which was great because I love llamas.
For me, the only disappointment was the lack of representation from baritones and basses on the solo lines. I noticed this absence especially as the Abbeys sang Mumford & Sons' "Little Lion Man." Ben Chodosh (COM '14) sang a great tenor solo, but he hit some fantastic notes at the lower end of his range of which I would have liked to hear more. I understand that the current scene isn't particularly friendly towards men with lower ranges; Glee recently cast Damian McGinty, a baritone, but they keep forcing him to sing tenor solos anyway. I miss back in the day when Broadway musicals featured baritone leads (again, The Music Man). Still, there has to be a familiar song that would translate well to a cappella and could feature a baritone or bass soloist.
The Tufts Beelzebubs definitely deserve a mention here. For those who don't remember, they placed second on the televised a cappella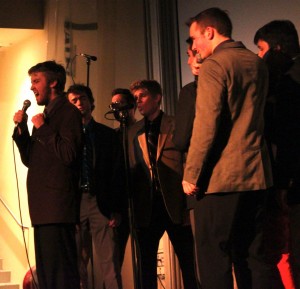 competition The Sing-Off and provided the backup vocals for all but one of the Warblers' songs on Glee. According to my sister, a Tufts freshman who attended the concert with my mother and I, about half of the Bubs' current members are new this year. That didn't stop them from performing Katy Perry's "Teenage Dream," which premiered last season on Glee with Darren Criss as the soloist. Though their repertoire differs from the Abbeys' (the Bubs experiment with rapping and more emphasized percussion), both groups presented numbers that featured one or more members taking off their clothes. Though I tended to prefer the Abbeys' song choices, I wish the Bubs would have stayed long enough for an encore.
"Men Being Manly III" should prove once and for all that men shouldn't be afraid to show off their artistic talents. I will definitely be back next year for another dose of gorgeous vocals, crazy energy and men.
For more information about their upcoming events, "like" the Dear Abbeys on Facebook. Both the Abbeys and the Beelzebubs have albums available for purchase on iTunes.